Schools That Send the Most Grads to Top B-Schools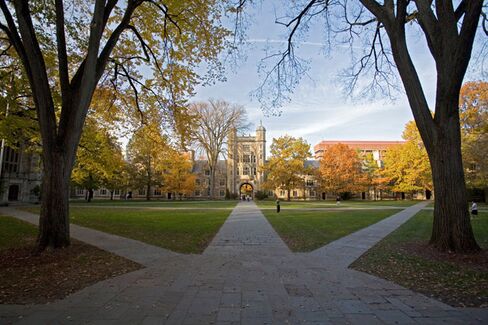 When the Best Business Schools ranking was released last fall, we published a story that looked at, among other things, which undergraduate programs produced the most MBAs from the Class of 2012. The results showed that Brigham Young University, the University of Michigan, and Cornell sent the most grads to top business schools.
But what if we made the list a little more exclusive, looking only at the undergraduate institutions that sent students on to graduate from the top 10 MBA programs? Here's what happens: Michigan takes the top spot, Cornell drops one place, to No. 4, and BYU falls out of the top 10 completely. The University of Pennsylvania takes over the second spot and Harvard places third.
In total, Bloomberg Businessweek collected responses from 2,368 students from the top 10 MBA programs, representing more than 600 undergraduate institutions. Of those, 67 hold undergraduate degrees from Michigan, 64 from Pennsylvania, and 62 from Harvard.
Size is a factor, no doubt, as more grads means more potential MBAs. Many of the schools in the top 10 have large undergraduate populations—those 10 schools average about 12,600 undergrads, with Michigan (28,000) and Berkeley (25,500) leading the way.
Familiarity also comes into play: Eight of the 10 schools appear on both lists. The two schools that don't appear on the MBA list are UC Berkeley (ranked No. 13) and Princeton, which doesn't offer an MBA. Interestingly, the school that is home to the top-ranked MBA program, the University of Chicago, is a nonfactor, tied with Colgate University and Tufts for 30th on the undergrad list, with 17 grads going to top graduate business schools.
The most important factor, though, is quality of education. All 10 of the undergraduate institutions on the list are mentioned among the best in the country, each appearing in the top 30 of the annual U.S. News Best Colleges ranking. With that in mind, it shouldn't be a surprise that grads from the top undergraduate intuitions end up at the top business schools.
Here's the list, along with how many students each school sent to top MBA programs:
Universities Sending the Most Grads to Elite MBA Programs
| | | |
| --- | --- | --- |
| 1. | University of Michigan | 67 grads |
| 2. | University of Pennsylvania | 64 grads |
| 3. | Harvard University | 62 grads |
| 4. | Cornell University | 61 grads |
| 5. | University of Virginia | 54 grads |
| 6. | Duke University | 52 grads |
| 7. | UC Berkeley | 49 grads |
| 8. | Stanford University | 46 grads |
| 9. | Princeton University | 42 grads |
| 10. | Northwestern University | 40 grads |
Join the discussion on the Bloomberg Businessweek Business School Forum, visit us on Facebook, and follow @BWbschools on Twitter.
Before it's here, it's on the Bloomberg Terminal.
LEARN MORE