Trade Gap in U.S. Probably Widened on Costlier Energy Imports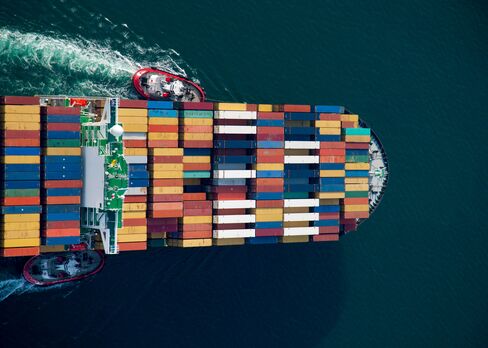 The trade deficit in the U.S. probably widened in January from a three-year low as costlier crude oil lifted the import bill, economists said before a report today.
The gap expanded to $42.6 billion from December's $38.5 billion that was the smallest shortfall since January 2010, according to the median of 73 estimates in a Bloomberg survey. Fourth-quarter productivity fell less than previously estimated, and jobless claims rose, other figures may show.
Sustained spending gains by U.S. consumers and businesses, will probably keep driving up imports this year even as oil costs moderate. Overseas purchases of American-made goods, which help to contain the trade gap, are also poised to rise as nations from Europe to China use stimulus measures to revive growth.
"With increasing oil prices, the trade gap tends to widen," said Robert Rosener, an economist at Credit Agricole CIB in New York. "We're looking for the trade deficit to return to a level consistent with growing import demand in the U.S. and export demand from abroad."
The Commerce Department will release the trade figures at 8:30 a.m. in Washington. Estimates of economists surveyed by Bloomberg ranged from deficits of $46.5 billion to $38.9 billion.
Also at 8:30 a.m., the Labor Department may report 355,000 Americans filed applications for unemployment insurance last week, compared with 344,000 the prior week, according to the Bloomberg survey median.
Productivity Falls
Other Labor Department figures to be released at the same time may show a measure of employee output per hour fell at a 1.6 percent annual rate in the fourth quarter, smaller than the 2 percent drop the government previously estimated, economists said. The data indicate companies are approaching the limit of how much efficiency they can wring from workers.
In the trade report, higher oil prices may have boosted the value of imports. Brent crude traded on the ICE Futures Europe exchange in London at an average of $112.32 a barrel in January, up from $109.20 the prior month. After averaging $116.07 a barrel in February, the price has since fallen to around $111 a barrel.
Stability in the global growth outlook may bolster earnings at companies such as Moline, Illinois-based Deere & Co., the world's largest agricultural-equipment maker. Deere in February raised its annual profit estimate and said equipment sales will rise about 6 percent, more than its prior prediction.
"Our key markets remain in good shape," Susan Karlix, manager of investor communications, said during an earnings teleconference on Feb. 13. "Current government programs in Brazil support higher amounts of equipment sales," and in China, agriculture "subsidies are expected be higher and very supportive of equipment sales."
China's Economy
China, the world's second-biggest economy, plans to raise its budget deficit by 50 percent this year as the government cuts taxes and boosts measures to support consumer demand. It plans to ensure funding for areas like agriculture, education, health care, social security, employment, and government-subsidized housing.
In the euro area, officials this week indicated budget policies may be eased after a backlash against austerity plans.
Economic strains may "justify in a certain number of cases reviewing deadlines for the correction of excessive deficits," European Union Economic and Monetary Commissioner Olli Rehn told reporters in Brussels on March 4.
A weaker U.S. currency will keep making American goods attractive to overseas buyers. Through the end of February, the dollar dropped 2.4 percent from last year's peak on June 1 against a trade-weighted basket of currencies from its biggest trading partners, according to Federal Reserve data.
                  Bloomberg Survey

=====================================================
                             Trade    Prod-  Initial
                           Balance uctivity   Claims
                            $ Blns     QOQ%   ,000's
=====================================================
Date of Release              03/07    03/07    03/07
Observation Period            Jan.       4Q    2-Mar
-----------------------------------------------------
Median                       -42.6    -1.6%      355
Average                      -42.3    -1.6%      352
High Forecast                -38.9    -1.3%      362
Low Forecast                 -46.5    -2.0%      332
Number of Participants          73       57       50
Previous                     -38.5    -2.0%      344
-----------------------------------------------------
4CAST Ltd.                   -44.5    -1.6%      355
ABN Amro Inc.                -43.0    -1.8%      355
Action Economics             -43.0    -1.5%      357
Ameriprise Financial Inc     -42.0    -1.8%      355
Banca Aletti & C spa         -40.8    -1.3%     ---
Bank of the West             -43.0    -1.6%      357
Bank of Tokyo- Mitsubishi    -42.0    -1.5%      350
Bantleon Bank AG              ---     -1.7%     ---
Barclays                     -42.0    -1.6%      350
BBVA                         -41.0     ---       332
BMO Capital Markets          -43.0    -1.5%      355
BNP Paribas                  -43.5    -1.6%      360
BofA Merrill Lynch Resear    -43.5    -1.3%      355
Capital Economics            -42.0    -1.5%     ---
CIBC World Markets           -44.1     ---      ---
Citi                         -45.0    -1.6%      345
ClearView Economics          -40.5    -1.8%     ---
Comerica Inc                 -42.0    -1.8%     ---
Commerzbank AG               -43.0     ---       360
Credit Agricole CIB          -43.0    -1.8%     ---
Credit Suisse                -40.0    -1.6%      335
Daiwa Securities America     -43.0    -1.7%     ---
DekaBank                     -43.0    -1.3%     ---
Desjardins Group             -40.0    -1.6%      350
Deutsche Bank Securities     -43.0    -2.0%      350
Deutsche Postbank AG         -42.0     ---      ---
First Trust Advisors         -43.3    -1.6%      355
FTN Financial                -44.0    -1.6%     ---
Goldman, Sachs & Co.         -44.0    -1.6%     ---
Hammer Partners SA           -42.7     ---      ---
Helaba                       -44.0     ---       350
High Frequency Economics     -41.0    -1.6%      350
HSBC Markets                 -41.5     ---       362
Hugh Johnson Advisors        -40.8     ---       355
IDEAglobal                   -42.0    -1.5%      355
IHS Global Insight           -42.4    -1.6%      350
Informa Global Markets       -43.0    -1.3%      350
ING Financial Markets        -42.5    -2.0%     ---
Intesa Sanpaolo              -43.0    -1.5%     ---
J.P. Morgan Chase            -42.3    -1.6%      350
Janney Montgomery Scott L    -45.4     ---      ---
Jefferies LLC                -43.1    -1.5%      355
John Hancock Financial        ---     -1.5%      349
Landesbank Berlin            -40.5     ---      ---
Landesbank BW                -41.5     ---      ---
Lloyds Bank Wbm              -38.9    -1.7%      355
Maria Fiorini Ramirez Inc     ---     -1.8%      350
Market Securities            -42.3     ---      ---
Moody's Analytics            -42.6    -1.6%      362
Morgan Stanley & Co.         -44.2    -1.6%      350
National Bank Financial      -41.0    -1.5%     ---
Natixis                      -40.0     ---      ---
Nomura Securities Intl.      -41.5    -1.8%     ---
Nord/LB                      -42.5    -1.5%      350
Pantheon Macroeconomic       -43.0    -1.6%      360
Pierpont Securities LLC      -46.5    -1.6%      358
PineBridge Investments       -40.0     ---       360
PNC Bank                     -43.0    -1.5%     ---
Prestige Economics           -39.0     ---      ---
Raiffeisenbank Internatio    -43.0    -1.8%     ---
Raymond James                -43.0    -1.5%      358
RBC Capital Markets          -44.0     ---       355
RBS Securities Inc.          -40.5     ---       335
Regions Financial Corp       -42.3    -1.6%     ---
Renaissance Macro Researc    -42.0    -1.5%      350
Scotiabank                   -41.5     ---       355
SMBC Nikko Securities        -43.0    -1.3%     ---
Societe Generale             -40.9    -1.6%      335
Southbay Research             ---      ---       355
Southern Polytechnic Stat     ---      ---       355
Standard Chartered Bank      -43.2     ---       355
Stone & McCarthy Research    -39.1    -1.6%      341
TD Securities                -41.3    -1.7%      360
UBS                          -40.0    -1.7%      340
University of Maryland       -43.5    -1.8%      355
Wells Fargo & Co.            -43.0    -1.6%     ---
Westpac Banking Co.          -44.0    -1.8%      360
Wrightson ICAP               -43.5    -1.7%      350
=====================================================