MBA Q&A: Notre Dame Dean Roger Huang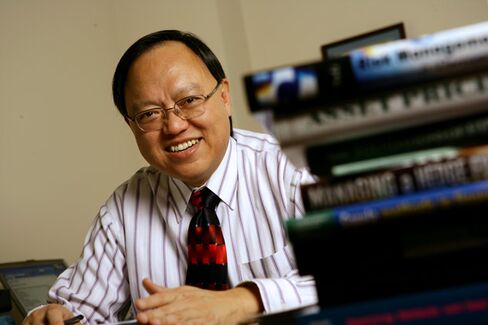 After holding the title of interim dean for more than a year, Roger Huang was officially named dean of Notre Dame's Mendoza College of Business last week. Huang, a Wharton PhD, has been teaching at Mendoza since 2000.
Mendoza is unique among business schools in that it started offering a masters degree in nonprofit administration in 1954, long before it introduced a traditional MBA in 1967. That early nonprofit influence is evident in its programs today: Classes are led by lecturers such as Roxanne Spillett, former president of the Boys & Girls Clubs of America. And students rate the school highly for its focus on ethics. Huang spoke with Bloomberg Businessweek's Erin Zlomek about what lies ahead for the school now that the interim tag has been stripped from his title. Below are edited excerpts of the conversation.
Several business schools have rolled out social enterprise programs in recent years, and many of those include nonprofit management courses. How will you keep your coursework relevant amid all the new offerings?
We have the history that new programs will not have, and both our coverage and network [are] broad and deep. For example, the director of our nonprofit administration program is the former president of Catholic Charities USA—that organization is huge, and his network is far-reaching. That's the level of connections we have. We are constantly learning as the market changes, and our courses are constantly being updated. We also learn a lot from the speakers we bring in.
Mendoza gave 65 percent of its MBAs scholarships in the most recent school year, and the average award was $25,153, which was one of the most generous packages among top programs. What is your strategy in this area, and how do you expect maintain that level of aid?
We gave out $5.4 million to the current class of MBAs graduating in 2013 and 2014. The vast majority of our MBA fellowship dollars comes from endowed accounts established by benefactors. And we typically add one to two new benefactors each year. The masters in nonprofit administration is separate from the MBA. We have kept tuition in that lower, and we subsidize it. That program also has foundation support.
What is one of the first projects you will oversee as dean?
This summer we are going to start a one-year masters of science in business, which would provide business fundamentals to students with nonbusiness backgrounds. We are also setting up a partnership with Renmin University of China, [in which] we will work with people who have been recruited from nonprofits and are on the fast track for leadership in their organizations.
Do you see adding any other one-year masters programs?
Yes, we are going to roll out other new one-year programs, because that seems to be where the demand for business education is. We are looking at the market interest in a masters degree in finance as well as in a masters in financial information management, in which there would be a focus on business analytics.
Join the discussion on the Bloomberg Businessweek Business School Forum, visit us on Facebook, and follow @BWbschools on Twitter.
Before it's here, it's on the Bloomberg Terminal.
LEARN MORE