XBA Aims to Fill a Hole Left by an 'Outdated' MBA Model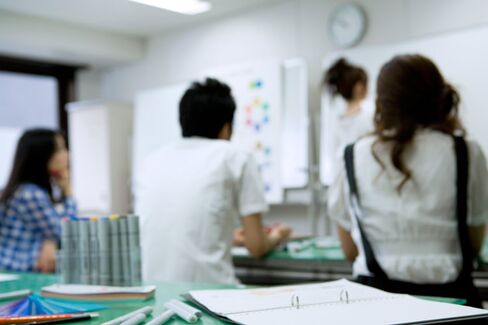 The Fullbridge Program—an intense course for undergraduates, recent graduates, veterans, and law students who want to learn business basics—aims to give the MBA a run for its money.
The program was originally launched in 2011 as a business boot camp for law students looking to familiarize themselves with management and quantitative work. In January 2012, Fullbridge expanded, offering its first course for college students and recent grads in Boston.
Now, one year later, its co-Chief Executive Officer and Founder Candice Olson says she considers the program one of the pioneers in a movement that's attempting to fill the hole left by what she considers an outdated MBA model. "Everyone agrees that college students need self-awareness and core skills to transition into their careers," Olson says. "In the 20th century, the MBA helped fulfill this role. Now, it has a more limited utility—students have to take two years out of the workplace and it is debt-inducing and narrow on careers."
That said, Olson doesn't want the the Fullbridge Program—also known as the XBA, to imply "beyond the B.A."—to be confused with a mini-MBA being offered by Stanford Graduate School of Business and Dartmouth College's Tuck School of Business. She sees those programs as being more academic and similar to what they teach graduate students. "There are a number of deliverables with tight deadlines throughout the day in the XBA, so it's a lot more like the workplace," Olson says.
Unlike a traditional business school curriculum, coaches facilitate students' movement in the XBA, and there are no lectures. Instead students study instructional material online and a coach quizzes them to see if they've understood it. Then, the coach works one-on-one with students who are struggling with any particular material. There is roughly one coach for every 15 students.
During the 160 hours of Fullbridge coursework, students learn about business analysis, including strategy, best practices, communication, self-awareness in the workplace, and entrepreneurship. Then, in a final project, they work in teams to deliver group analysis, recommendations, and a presentation based on a theoretical business problem. Each team member leads the group at least once during the planning and receives feedback from teammates. The idea is to identify each student's strengths to best utilize team members, learn to disagree effectively, and test basic skills, Olson says.
As a business model, too, the Fullbridge Program differs from the MBA.
For starters, XBA is much cheaper. The cost ranges from $5,000 to $10,000. If you're a college student taking the course in the summer, you are likely to spend $5,750, plus another $1,500 for lodging.
Graduate business students have a network of alumni to which they can turn for support, and they also get a good deal of job-search assistance from MBA career services centers. That's not the case at Fullbridge. Olson says she cannot promise students they'll get a job after taking this course. Still, Fullbridge students take assessments that underscore what job might be right for them, and they meet with a career coach who helps them map out career options.
Matthew Tower, a liberal arts major at Amherst College, says that even without the full-fledged career support of traditional business schools, the Fullbridge Program gives him an edge. "I feel I can read the newspaper and understand what's happening [on the business pages]," says Tower, a sophomore who is planning to major in history and recently took the XBA course when it was offered in Boston. "When I interview for jobs, I will be able to sell myself as having these certain skills."
Before it's here, it's on the Bloomberg Terminal.
LEARN MORE