Women Are Taking the GMAT in Record Numbers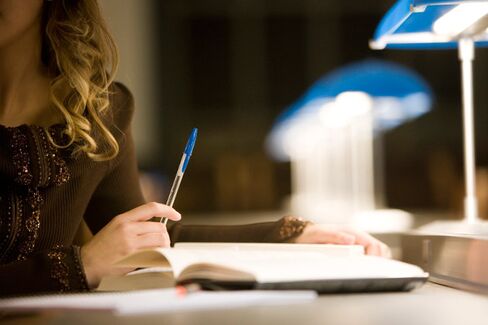 The number of women taking the GMAT is on the rise, with China leading the way, according to the Graduate Management Admission Council (GMAC).
A record 122,843 GMAT tests were taken by women in the 2012 testing year, representing 43 percent of the total. That bests the previous record of 106,800 set in 2011, when 41 percent of tests were taken by women.
China experienced the greatest increase, with 37,710 tests taken by women in that country, up 47 percent from 25,671 in 2011 and up 98 percent from 19,033 in 2010. Women also represented 65 percent of the country's test takers, compared to just 39 percent for the U.S. "The increase among Chinese women is miraculous," says Elissa Ellis-Sangster, executive director of the Forte Foundation, a consortium of companies and business schools working to advance women in business. "I think it's a great story of the global economy, and I do think developing countries will start to take a closer look at women and their impact on the workforce."
Chinese test takers are also contributing largely to a fast-growing pipeline of younger female business talent.
More than half of women taking the GMAT worldwide are now younger than 25 and they are fueling interest in non-MBA graduate business degrees. "A lot of Chinese women are looking at programs that will make them technical experts," Ellis-Sangster says.
One of those women is Hellen Hou, 24, who left China to get a bachelor's degree in actuarial science from the University of Waterloo. She enrolled in the master's of finance program at MIT's Sloan School of Management right after undergrad and expects to take a job with Sun Life Financial in Canada once she graduates this spring.
Hou calls her master's experience life-changing because a professor explained the opportunities that would be open to her as a financial analyst covering the insurance industry. "It's not at all what I had envisioned for myself when I was an undergrad," she says. Hou's plan is to work as an actuary for three years before becoming an equity analyst. Going to business school early has been helpful, she says, because she has already made contacts at the major investment banks and has sharpened her presentation skills.
At London Business School, career services director Fiona Sandford estimates that women coming to the school from China have outnumbered men from China since at least 2010, with many of those women enrolling in the school's pre-experience master's in management program. Sandford notes that in recent years she's also started to see more of those women return to China to take jobs. "It's a real change of direction from five years ago," she says. "The majority of women who came to study here in the past wanted to stay in the west, now they are building their networks so that they can go back home again. And we are making significant investments to help them do that."
The University of Virginia's Darden School of Business has experienced a similar pattern. Sara Neher, assistant dean of MBA admissions at Darden, says the school has seen enrollment increase among Chinese women and notes that "more and more female alumni move back." The trend "certainly assists with our recruiting efforts," she says.
Join the discussion on the Bloomberg Businessweek Business School Forum, visit us on Facebook, and follow @BWbschools on Twitter.
Before it's here, it's on the Bloomberg Terminal.
LEARN MORE