What to Expect from News Corp.'s Sports Network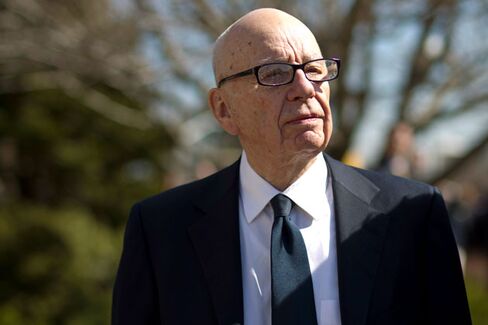 News Corp. plans to launch a national sports network to rival ESPN, according to insiders. Rupert Murdoch's cable empire is set to begin programming on Fox Sports 1 in August, with possible sister networks to follow. Fox is following CBS and NBC into the hunt for chunks of ESPN's fat profits. Here's a cheat sheet on what the move means for some of the players involved:
1) News Corp.
Fox Sports 1 executives have a lot of work ahead of them luring talent, live games, and eyeballs—but analysts expect this to be a money-maker for the company. In February, RBC Capital Markets analyst David Bank and his colleagues published a long report on the state of play in sports TV. "We do not believe that the likely initial slate of sports events will make Fox Sports 1 'another ESPN' overnight," they wrote. Live sports are what draw viewers to sports networks. For now, as the RBC report notes, Fox Sports 1 will likely be limited to about 40 regular season Major League Baseball games it can move over from its broadcast deal with the league, along with a menu of Nascar, college football, Ultimate Fighting Championship, and European and World Cup soccer. But that's nothing to sniff at. RBC estimates that this lineup could help News Corp. fetch about a $1 per subscriber from carriers for the 90 million or so subscribers the company hopes to move over from its SPEED network, making for a $865 million bump in affiliate fee revenue. Yet to really threaten the "worldwide leader," Fox Sports will need to get hold of further live game rights from the top U.S. leagues, preferably the NFL or the Olympics. And with the exception of the NBA, whose national TV deal expires in 2016, those rights are locked up until at least 2020. Which brings us to …
2. The NBA
League Commissioner David Stern and his heir, Adam Silver, are probably licking their chops at the prospect of a bidding war among the incumbents, Turner Sports and ESPN/ABC, and their new rivals. The NBA's current deal, inked in 2007, pays about $930 million per year. "I think the league has to be very happy with this," says Brad Adgate, research director at Horizon Media. He expects Fox Sports 1 to bid aggressively, possibly taking an existing slice of the national pie or getting the NBA to cut out a new one. (The blog Sports Media Watch handicaps this race quite nicely.) "Recent and future ratings and popularity growth could push [NBA] rights fees higher when the current national TV contracts are renewed," says RBC.
3. You, the viewer
Live sports have been the main driver for the rising cost of cable for years. Bidding wars for national TV rights mean programmers will need to keep that trend going. "When these contracts come up for renegotiation, I think it's going to be a little more competitive, and that's just going to drive up prices on the back side," says Adgate. In other words, expect cable bills to keep going up, with viewers and carriers complaining to no avail. "Over time, it might very well be the case that affiliate fee growth has to slow," RBC wrote. "For today, however the popularity (and DVR-proof characteristics) of sports gives us relative comfort that the channels will probably retain leverage over the distributors."
4. Regis Philbin
The New York Times reports that Philbin will host a studio show on Fox Sports 1. This should help him defend (and enhance) his Guinness World Record for having logged close to 17,000 hours on camera on U.S. television.
Before it's here, it's on the Bloomberg Terminal.
LEARN MORE