Borg Defends Riksbank's Right to Set Currency Policy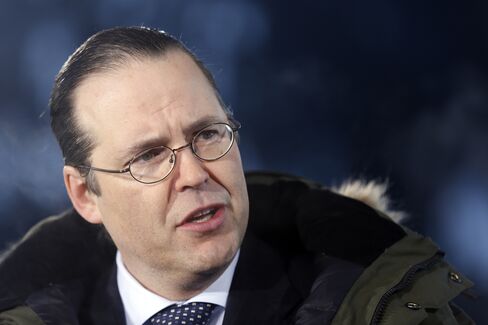 Sweden's government distanced itself further from moves elsewhere across the globe to manipulate currencies by pledging not to interfere with the central bank's exchange rate policy.
The stance is in contrast with efforts from France to Japan, where governments have pushed for monetary policy steps targeting exchange rates. In Japan, the government's preferred candidate to take over as central bank governor has spoken in favor of additional stimulus measures. French Industry Minister Arnaud Montebourg said last month his government wants the European Central Bank to "confront a new currency war" after the euro became "too strong."
"I would never dream of commenting on monetary policy," Swedish Finance Minister Anders Borg said in an interview in Stockholm today. "The entire responsibility for monetary policy and currency interventions is with the Riksbank."
Sweden's central bank Governor Stefan Ingves said in an interview last month the krona's ascent is justified and has brought the exchange rate to a level he's "happy" with. Sweden has distinguished itself as a nation that won't be dragged into so-called currency wars as governments elsewhere try to boost trade competitiveness through exchange-rate devaluations.
Krona Gains
The krona, which has risen 6 percent against the euro in the past year, gained as much as 0.3 percent today. It traded little changed at 8.3783 as of 2:33 p.m. in Stockholm. The krona is the best-performing major currency in the world this year after rising 4.1 percent, according to the 10 developed-market Bloomberg Correlation-Weighted Index.
Sweden's central bank refrained last month from a rate cut that had been predicted by nine of the 22 economists surveyed by Bloomberg. The bank's six-member board agreed to leave the main repo rate at 1 percent after cutting it four times since December 2011.
"In some other countries, governments and central banks share duties with respect to the exchange rate," Borg said. Sweden's decision to leave all monetary policy and currency decisions to an independent central bank is "very wise," he said.
Comments by Ingves and other policy makers in the largest Nordic economy show that "Sweden will stay side-lined on any global currency war, being a lone rider among central banks in not viewing its currency as overvalued," Danske Bank A/S senior analyst Christin Tuxen said in a note today. "This lends support to our view that the krona is, if anything, slightly undervalued and should appreciate further from here."
Trade Surplus
Borg said in a Feb. 14 interview Sweden's krona will probably stay strong for "the next couple of years." He urged exporters not to rely on the exchange rate "to mitigate" production costs, while reiterating his readiness to deploy stimulus measures should Sweden's economy need it.
Borg and Ingves have resisted calls from business groups to resort to policies that weaken the krona even after the country's trade surplus narrowed. Some of the biggest companies in Sweden, which relies on exports for half its output, have cut jobs to stay competitive. Truckmaker Volvo AB and telecoms firms Ericsson AB and TeliaSonera AB have eliminated thousands of positions to adjust to declining export demand.
Sverker Martin-Loef, chairman of Swedish companies including SSAB and Industrivaerden, said last month the Riksbank's monetary policy was making the krona stronger than it should be.
Trade Effect
Even Borg has in the past bemoaned the krona's strength. Given the state of the Swedish economy, "it would have been an advantage if the krona had weakened somewhat," Borg said in January. Some of the central bank's board members have also argued in favor of more cuts to bring inflation back to the 2 percent target.
"If the krona is strong, all else equal, that's yet another reason to lower the rate," Riksbank Deputy Governor Lars E.O. Svensson said Jan. 16.
Swedish headline inflation was zero in January, compared with minus 0.1 percent a month earlier. Underlying inflation held at 1 percent, the statistics office said last month.
Sweden's trade surplus has averaged 5.9 billion kronor ($916 million) since January last year, according to data provided by Statistics Sweden and compiled by Bloomberg. In the years between 2000 and 2012, the average surplus was 10.2 billion kronor.