Dysfunction in Congress Creates Clinton-Accord Nostalgia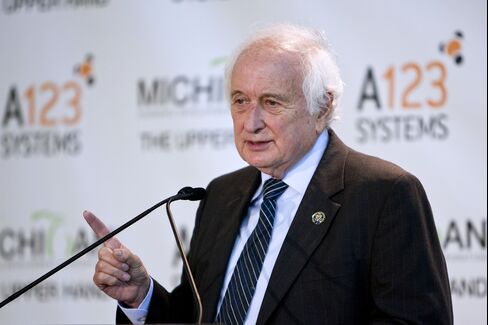 U.S. Representative Sander Levin, a Democrat from Michigan, recalls his last substantive issue discussion with a Republican on the House Ways and Means Committee.
It was 13 years ago.
He and Bill Thomas, then a Republican congressman from California who served as the committee's chairman, came to an agreement on a trade deal with China. It required give and take, then compromise, he said in an interview. Levin, 82, hasn't seen that happen on "truly substantive" legislation since.
The $85 billion in automatic budget cuts that started March 1 -- reductions crafted to be so arbitrary and damaging that they would not actually occur -- exemplify the dysfunction in Washington that he has seen building for the last 20 years.
And Levin isn't alone.
"I see it getting worse before it gets better," said Representative Peter King of New York, a Republican. "Too many people in Congress have not been in politics before, and they are not used to the give and take. They don't understand the necessity of compromise. Ronald Reagan used to take his principles to the table, and make the best deal you can."
Disillusioned Americans
The inability of leaders in Washington to reach an agreement to forestall the cuts, commonly called sequestration, adds to the disillusion Americans express about their government. Only 15 percent of Americans approve of the job Congress is doing, according to a Gallup poll published Feb. 19.
That contrasts to a 51 percent approval rating for Obama's performance in a Gallup survey released Feb. 28. The congressional rating matched last year's average, which was the lowest in Gallup's polling since 1974.
Senator Tim Kaine, a Democrat from Virginia elected in November, used his first speech on the chamber's floor Feb. 27 to take the unusual step of criticizing Congress. "And so the abnormality of the times is this: never in my knowledge in the history of this body has Congress designed a punishment that would hurt the lives of regular individuals, that would hurt the economy," Kaine said. "It was designed with that knowledge fully, all hoped it would not happen and yet we are within 48 hours of allowing it to happen."
Blame Obama
Republicans blame Obama for not showing leadership by bringing the parties together. He summoned congressional leaders to the White House March 1, the day the first round of cuts became effective. No progress was reported after that session, which lasted less than an hour.
House Speaker John Boehner described the talks as "polite" and frank. "I don't think anyone quite understands how it gets resolved," said Boehner, speaking on NBC's 'Meet the Press'' broadcast yesterday.
Senator Rob Portman, a Republican from Ohio, told reporters on Feb. 28 that it's "unbelievable that the guy wins re-election and goes on the campaign trail and again agrees to meet with congressional leadership only after sequestration goes into effect."
The president also telephoned some lawmakers about the budget on March 2, said Gene Sperling, director of Obama's National Economic Council, yesterday on NBC's "Meet the Press."
The prospect of federal spending cutbacks hasn't triggered major concern among investors. The Standard & Poor's 500 Index has risen 6.4 percent this year. It gained 0.3 percent to 1,518.41 at 4 p.m. March 1 in New York as consumer confidence increased and manufacturing grew at the fastest pace since June 2011. Yields on 10-year Treasuries, little changed over the past month, decreased three basis points, or 0.03 percentage point, to 1.85 percent at 4:08 p.m. New York time, according to Bloomberg Bond Trader prices.
Horse Trading
Deals, particularly in the Senate, once had their roots in geography as much as partisanship. Senator Patrick Leahy, a Democrat from Vermont, would align with Senator Thad Cochran, a Republican from Mississippi to vote for cotton programs important to the South in exchange for a vote on a dairy compact Leahy wanted for the Northeast, said a Senate aide with more than two decades of service who requested anonymity.
Former Senate Majority Leader Bob Dole, a Republican from Kansas, was known to slap his leg and tell fellow members to put out their last press release, because he was going to announce a deal in an hour, the aide said. In that era, senators knew that if they could agree on 80 percent of issues, there was still plenty to fight about along partisan lines.
Long Debate
Now, Levin and King said, the ratios are reversed and partisanship comes first.
"We have been debating the role of government and the balance between public and private sectors forever," Levin said. "The problem is now there has been a radicalization of the Republican Party and it is so different from my experience."
Levin came to Washington after winning his Michigan House seat in 1982 in a district that includes Macomb County, a place teeming with the Democratic voters who backed Ronald Reagan.
Since 1987, he has served on the ways and means committee, which writes the nation's tax laws, helping to produce deals that rewrote the tax code, shored up Social Security and delivered trade pacts.
King, who was angered when many of the House Republicans aligned with the anti-tax Tea Party voted against Hurricane Sandy relief funding, said he was "really surprised how little institutional knowledge and even historical knowledge some members have. ''It is the crisis of the day and the issue of the day.''
Inexperienced Members
When asked what is getting done, King said: ''Actually, nothing is getting done.''
Newer members are a near majority in Congress. Of the 100 current senators, 43 came to office after Obama was elected in November 2008, according to data compiled by Bloomberg. In the House, 47 percent of the 432 members now serving, have less than five years of service. Three rookies are on the way, as those seats are vacant.
Democrats are not blameless, Levin said, noting that they didn't effectively engage Republicans in the debate over Obama's health care law. In the current stalemate, Levin said, it is difficult to have a negotiation when Republicans insist there should be no new taxes.
''When the speaker says there will be no discussion of revenues, it's a dead end," Levin said. "We can't even have a discussion."
Obama is seeking to replace sequestration with a combination of trimming spending, including in entitlement programs, and higher revenue from closing loopholes in the tax code that benefit the wealthiest Americans and corporations.
Voter Response
Levin said he is also hearing from voters back in his district, particularly independents, who have grown increasingly frustrated. "A clash of ideas is accepted but deadlock is not," he said.
William White, a Democrat and former mayor of Houston, said the impasse is likely to be resolved in a way that doesn't address the fundamental problem.
"There will be some compromise along the lines of what we've seen in the past, which is somebody gets to spend more money on one thing and the other party gets to spend more money on something else," said White, who was also deputy energy secretary in the Clinton Administration, in an interview in the Houston Bureau of Bloomberg News. "They call it a victory and the only people left holding the bag are the people who've got to pay the debt."