How the Sunbelt and Mexico Bailed Out Spain's BBVA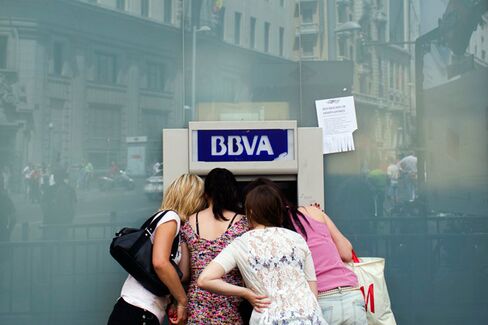 Globalization in a time of economic distress makes for strange bedfellows. India now owns Jaguar, that longtime British icon. Angola, flush with oil money, is buying up assets in colonizer Portugal. And get this: Spain's second-largest bank, Banco Bilbao Vizcaya Argentaria—soaked in cheap central bank euros and based in a home market experiencing outright depression—is drawing badly needed profits from a U.S. Sunbelt subsidiary that is the official bank of the NBA.
How did that happen? Six years ago, when subprime was still mostly sublime, Bilbao-based BBVA paid a hefty premium to acquire Birmingham's Compass Bancshares for just under $10 billion. That bought the then-150-year-old Spaniard 415 branches across Texas, Alabama, Florida, New Mexico, Colorado, and Arizona—a prime cross-section of growing immigrant demand for financial services.
One global contagion later, BBVA has managed to wring the most out of these and other financial assets and regulatory clout in faraway places, and without letting any of its Iberian toxicity seep across the Atlantic.
Company spokesman Thaddeus Herrick says that Europe's economic travails have little impact on BBVA Compass or the bank's ability to conduct business in the U.S. "As a U.S. chartered financial institution," he says, "we, like our peers, are regulated by federal and state authorities and measured on a stand-alone basis. … BBVA Compass is a profitable, well-capitalized U.S. bank with a strong liquidity position. Our deposits are insured by the FDIC to the maximum extent allowable by law. Although we are a subsidiary of BBVA, the BBVA business model allows us to operate independently from our parent company."
Interestingly, before the full rot of the parent company's real estate-heavy balance sheet was known, BBVA partook in "too big to fail" opportunism in the States. In 2009, it snapped up most of failed (and unfortunately named) Guaranty Financial, with the help of the Federal Deposit Insurance Corporation; that won BBVA Compass another 100 branches in Texas and 60 in California.
BBVA Bancomer, meanwhile, is the largest bank in Mexico. The mother ship is big in Uruguay, Argentina, and Chile. And BBVA owns a quarter of Turkey's largest bank. Indeed, its sprawling emerging-market branch operation is keeping the parent in the black (conceding for a moment that Spain, a country with 26 percent unemployment, is not quite back to emerging-market status).
Consider: Last year, BBVA's net attributable profit from Mexico alone came in at 1.8 billion euros, more than offsetting the net 1.3 billion euros BBVA lost in its home country, after ongoing real estate write-downs. For its part, back in Birmingham, BBVA Compass kicked in 475 million euros in 2012 net profit.
Management said last month that it now intends to pay back a "meaningful" part of the 22 billion euros of financial aid it had to accept from the European Central Bank.
Not that BBVA isn't open to more opportunistic aid, especially abroad. In a Feb. 14 note titled "Asking for Help," analysts Iñigo Vega and John Nelson Ferreira of U.K. investment research firm Nau Securities referenced BBVA Chairman Francisco Gonzalez's comment that "it's now the time for creativity" to facilitate more lending. "He is not being creative here," they wrote. "He just happens to run the largest retail bank in Mexico. We believe that when he talks about new mechanisms … [he means] greater government involvement, through direct lending or government guarantees capping its cost of risk."
To recap: In a show of 21st century mercantilism, the Spanish have essentially re-annexed swaths of the New World, only this time without the help of the Niña, Pinta, and Santa Maria.
Before it's here, it's on the Bloomberg Terminal.
LEARN MORE