How Dennis Rodman—and You—Can Visit North Korea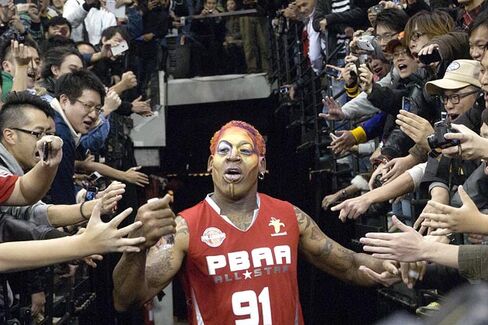 First Eric Schmidt went to North Korea. Now it's Dennis Rodman's turn.
Last month, Google's chairman made headlines by visiting the communist state. On Tuesday, the former NBA star started a week-long visit to the North, traveling with three members of the Harlem Globetrotters on a goodwill visit. The Pyongyang regime is trying to make it easier for other foreigners to follow: Bloomberg News reports the country's only cellular operator is going to offer uncensored 3G services for foreigners traveling to the Stalinist state.
Rodman, aka the Worm, doesn't seem to have doubts about the morality of visiting a country where—notwithstanding the official government website's description of a "Juche-oriented" land where "workers, peasants, soldiers and intellectuals are the true masters of their destiny and are in a unique position to defend their interests"—human rights abuses are rampant and the government is toying with nuclear weapons. As Rodman writes on his Twitter feed: "I'm not a politician. Kim Jung Un & North Korean people are basketball fans. I love everyone. Period. End of story."
Which raises many questions: Is it even legal for Americans to visit North Korea, a charter member of George W. Bush's Axis of Evil? How does somebody who's not the chairman of the world's most powerful Internet company or a member of the Basketball Hall of Fame manage to go there? Is the North about to become the Next Big Thing for tourists looking for an exotic holiday? Should you cancel your plans for Bali or Bhutan and follow Rodman to Pyongyang?
To get the answers, I spoke to Nick Bonner, founder and director of Koryo Tours, a travel agency in Beijing that specializes in arranging visits to the North. Surprisingly, it is possible to build a business around North Korean tourism: Bonner, a friendly, 51-year-old architect from the U.K., has been at it since 1993. He says his agency handles about half the visits by Westerners to the North. Last year Koryo arranged travel for 2,500 people, a 19 percent increase over 2011.
First of all, Bonner says Americans have no problem getting permission to travel to North Korea. "It's totally legal," he says. (The State Department website confirms that Americans can indeed visit, but since the U.S. doesn't have an embassy in Pyongyang, State does ask that people planning a trip to the North "please take the time to tell the U.S. Embassy in Beijing, China, about your trip.") When it comes to charging foreigners to enter the country, Kim Jong Un's government believes in equality. The visa process takes a few weeks and costs €50 ($65); unlike China, North Korea doesn't charge American visa applicants more than other foreigners must pay. Like other aliens, Americans can enter the country only via China, though Bonner says U.S. citizens face a singular restriction: While other foreigners can take a train back to China, Americans at the end of their trip must fly from Pyongyang to Beijing.
While a holiday in North Korea isn't my idea of a fun time, Bonner says the country is worth a visit. For starters, he says, there's no need to worry about security. "It's a very safe destination," he says. "It's probably one of the safest destinations you can go." Moreover, now that even the repressive junta in Myanmar has embraced reform, the Democratic People's Republic is the last of its kind, a pariah state still largely isolated from the rest of the world. "It's actually fascinating," Bonner says. "It's totally unlike any other holiday you'll have in your lifetime."
One highlight is the chance to meet locals. "Korean people are fantastic," says Bonner. While tourists, whether on their own or with groups, must travel with state-approved North Korean guides, there are opportunities for visitors to talk with ordinary citizens. "There is genuine interaction," he explains. "We know where to go. You are meant to see museum after museum but we make sure to go to places where you run into locals."
Still, you might want to wait a while before booking your trip. According to Koryo's website, the "Victorious Fatherland Liberation War Museum" is temporarily closed and is expected to reopen in July. Plan accordingly.
Before it's here, it's on the Bloomberg Terminal.
LEARN MORE