Spotify Joins Ford's Roster of In-Car Music Apps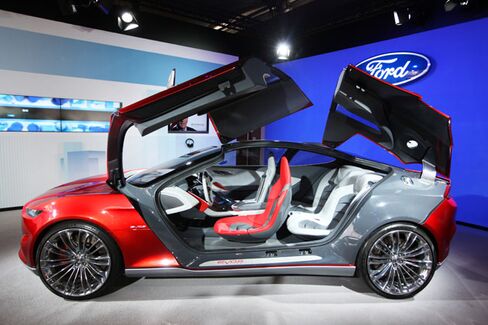 Spotify has made its first connected-car appearance. At Mobile World Congress, Ford and Spotify announced that the subscription music service will soon be available over the Sync AppLink platform and integrated with the Sync's voice command system in Ford vehicles in the U.S., Europe and Australia.
According to Pascal de Mul, Spotify's global head of hardware partnerships, the updated iPhone and Android apps will soon be able to pair with the dashboard AppLink system, streaming music through the car's entertainment systems. Users will be able to play their songs, playlists, and radio stations and even be able to create new radio stations on the fly with simple voice commands, he says.
Ford has been loading up on music streaming apps in AppLink, making it a key initial focus of its connected-car strategy. Its library of supported services includes Pandora, Amazon Cloud Player, MOG Music, Slacker, and Rhapsody as well as radio stations' digital apps.
Paul Mascarenas, Ford's chief technology officer, says digital music streaming figures right into Sync's sweet spot. Ford doesn't have to explain the utility of the services to the driving public, since music is already the most popular form of entertainment in the car. The integration of a streaming service into Sync is relatively simple. And since the content is audio only and can be manipulated through Sync commands, the apps all easily meet Ford's requirements that no connected-car app distract a driver from the road [http://gigaom.com/2012/09/20/the-car-dashboard-is-not-the-place-to-let-1000-apps-bloom/], he says.
At the show Ford also revealed it is adding AppLink connectivity to its EcoSport crossover SUV (pictured at top) just in time for its European debut. Ford is also bringing several apps to Europe that were previously available in U.S. cars: Kaliki, Glympse, and Aha Radio.
We got a chance to sit down with Mascarenas for a few minutes at MWC to get a quick update on Ford's new open development platform, originally unveiled at CES. Although the program is barely more than a month old, 2,500 developers have already signed up and downloaded the SDK. Many of those developers have already completed apps and have submitted them to Ford, and a few of those apps actually received final approval, Mascarenas says. He says Ford plans to announced those apps in the coming weeks.
Spotfiy doesn't count, since it began working with Ford before the development program was launched, Mascarenas says, but the program has opened up Sync to a lot of smaller developers who wouldn't usually get Ford's direct attention. Ford is now faced with a distribution and discovery issue. "If you go into an app store, there's no easy way to find the apps that are AppLink-enabled," says Mascarenas.
When the number of Sync apps was small, Ford could promote them individually. But there are now 63 AppLink-optimized apps, and that number will grow significantly as the apps start emerging from the developer program. Ford is working on ways to catalog them. Whether that means creating its own app store or portal Android or working with Apple and Google to spotlight connected-car software, Mascarenas doesn't say. Ford could also go with the approach that General Motors appears to be adopting and create a catalog in the dashboard itself.
Also from GigaOM:
Sustainability and the Connected Car (subscription required)
Why Firefox OS May Bring Balance Back to the Smartphone Industry
Bringing a Little Cheer to Energy Innovation
Hortonworks and Microsoft Bring Open-Source Hadoop to Windows
Don't Hold Your Breath for That Nokia Tablet
Before it's here, it's on the Bloomberg Terminal.
LEARN MORE