Hitching a Ride on the Goldman Sachs Ferry
Goldman Sachs has launched its own ferry service on the Hudson River. We took a test ride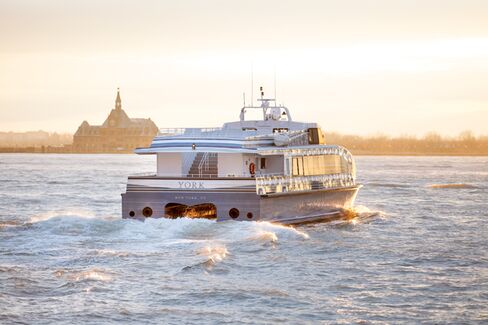 It's 5 p.m., and Alvin Mai, a Goldman Sachs programmer, is traveling in style. He's reclining in a green-and-blue upholstered seat on the York, a new 72-foot, Goldman-funded ferry bobbing along the Hudson River toward Manhattan. "It's really convenient and really quick, and it sticks to a tight schedule," says Mai, who opted for the five-minute boat ride home from Jersey City instead of taking the Path train.
The York and its sister boat, the Jersey, began operating in February after a two-year delay, serving the public as well as Goldman Sachs employees. They're part of a $5 million Goldman investment meant to ease transportation between its two New York-area buildings: the main tower in Battery Park City, which houses sales, trading, and banking, and the smaller office across the Hudson in Jersey City, N.J., predominately the operations and technology side of the bank. "For the most part, your group is in your building," says Mai. "But you can ferry across the river for cross-divisional stuff or to attend a seminar that's only held in one place."
Between 9:30 a.m. and 4:30 p.m., Goldman employees travel the York for free. Everyone else has to pay $6, which is less than it costs to ride most of the weather-beaten barges provided by NY Waterway, the private company that owns and operates all the other ferries that shuttle among Manhattan, New Jersey, and Brooklyn.
The York looks like a younger, hipper sister to the other vessels docked at World Financial Center Ferry Terminal—it has a bright-blue hull, and wavy green and blue stripes along the sides. It's futuristic-looking, says a Goldman employee in his late 30s, who also notes the ferry's smoother ride. Bar stools border walkways near the stern. One man fighting the wind with his briefcase compared it to a party boat—without the booze. Alcohol isn't served on the York or the Jersey.
"While we certainly want to create a comfortable environment for employees and anyone else who uses the ferry, our primary considerations when purchasing these new boats were about the environmental and efficiency aspects, the noise aspects, as well as being a good neighbor," says Tiffany Galvin, a Goldman Sachs spokeswoman.
Many of the journey's riders are unaware of the provenance of their flashier ride. "I was wondering why the other boats didn't upgrade and it was just this one," says Kristy Kobryn, a 42-year-old certified public accountant who works at Deloitte. "I'm benefiting, and I don't even work for Goldman," she says. "And I like their new jackets."
She's referring to the ticket collectors, decked out in forest-green coats and matching baseball caps. She notes the color scheme of the ferry's interior—green-and-blue-striped cushions, black carpet, and gunmetal-gray walls—seems wisely chosen. "It doesn't look like it'll get dirty," she says. "Well, it will get dirty, but we won't notice."
Before it's here, it's on the Bloomberg Terminal.
LEARN MORE