Mouton-Rothschild 2004 Climbs to 17-Month Liv-ex High of $4,760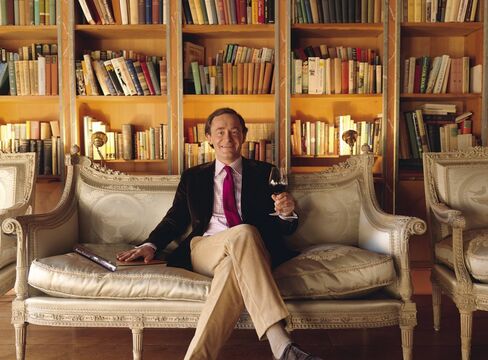 A case of Chateau Mouton-Rothschild 2004 sold for 3,150 pounds ($4,760) on the London-based Liv-ex wine market this week, its highest level for 17 months and part of a broader recovery by top Bordeaux wines.
The Mouton, a first-growth Pauillac, was 37 percent above the 28-month low of 2,300 pounds paid for the vintage in October and almost double the 1,575 pounds at which it traded soon after release in the futures market in June 2008.
Prices for top Bordeaux wines have rallied as investor demand picked up after a decline during the financial crisis. The Liv-ex Fine Wine 50 Index of leading clarets rose 2.9 percent in February after climbing 3.5 percent in January, its biggest monthly gain for two years, following a drop of 9.7 percent in 2012. The index rose further this month, taking it 11 percent up from a two-and-a-half year low in November.
"Demand from Asia is returning, so far in a more restrained manner, which will serve the market well if it leads to steadier and more sustainable price rises," Miles Davis, partner at Wine Asset Managers LLP, said in his February monthly report. WAM has $20 million under management in two funds.
At the peak of the Bordeaux market two years ago a case of Mouton-Rothschild 2004 sold for $6,765 at an Acker Merrall & Condit auction in Hong Kong in March 2011.
The 2004 vintage of Mouton-Rothschild is its second-cheapest of the past eight years, according to U.K. and European merchant prices collated by Liv-ex, ahead only of the 2007. The rally in its price reflects buying interest across a wider group of Bordeaux wines.
Lafite's Carruades
Two cases of Carruades de Lafite 2008, the second wine of Pauillac first-growth Chateau Lafite-Rothschild, sold for a four-month high of 1,750 pounds on Liv-ex March 13, according to data on its Cellar Watch website.
The price was 8 percent up from a 31-month low reached last October, and came after 12 cases were sold at an Acker Merrall & Condit auction in New York last month, six for $2,952 each and six for $2,706, according to Acker's online records.
Three cases of Chateau Pontet-Canet 2009 sold for 1,624 pounds each on Liv-ex March 6 as the Bordeaux fifth-growth wine estate extended gains made since the start of this year to 16 percent, according to Cellar Watch data.
Pontet-Canet, a Pauillac winery which is a close neighbor to Mouton and Lafite, fetched as much as $3,690 a case at an Acker Merrall & Condit New York sale in December. Pontet-Canet's 2009 is its highest-priced vintage since its 1959, according to Liv-ex data.
Saint-Julien
Two cases of Saint-Julien second growth Chateau Leoville Las Cases 2002 traded at 1,125 pounds each on Liv-ex March 2, the highest level for the vintage on the exchange in 17 months.
That was 18 percent up from a two-year low of 950 pounds it touched in mid-November, although below the $1,912 fetched by each of two cases at a Hart Davis Hart Wine Co. auction in Chicago in February last year.
The Mouton trade at 3,150 pounds a case took place on March 18, according to data on Liv-ex's Cellar Watch website. Two cases of the same vintage also sold the same day for 3,140 pounds, while 12 bottles changed hands today for 3,120 pounds and two more for 3,080 pounds.
Mouton 2004 is the 14th-biggest gainer in the Fine Wine 50 over the past year, trailing the 1999, 2000, 2001, 2002 and 2003 vintages of the same producer, according to Liv-ex data, based on merchant list prices in Europe.
Wines Gaining Most in Past 12 Months on Liv-ex Fine Wine 50

Producer           Vintage         % Change
                                 (12 months)

Mouton               2000           +13.3%
Latour               2004           +10.7%
Mouton               2002            +6.5%
Margaux              2002            +6.0%
Haut Brion           2007            +5.6%



Wines Falling Most in Past 12 Months on Liv-ex Fine Wine 50



Producer           Vintage         % Change
                                 (12 months)

Lafite               2008           -20.4%
Lafite               1999           -18.9%
Lafite               2000           -18.0%
Haut-Brion           2008           -17.6%
Mouton               2008           -14.8%