Several on FOMC Said Fed Should Be Ready to Vary QE Pace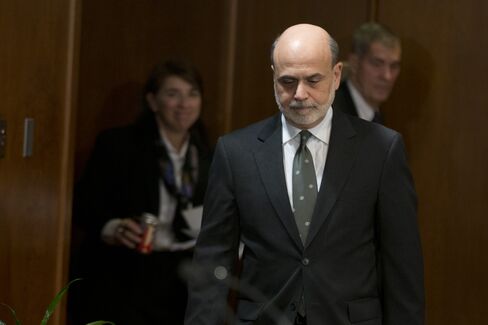 Feb. 20 (Bloomberg) -- Several Federal Reserve policy makers said the central bank should be ready to vary the pace of their $85 billion in monthly bond purchases amid a debate over the risks and benefits of further quantitative easing.
The officials "emphasized that the committee should be prepared to vary the pace of asset purchases, either in response to changes in the economic outlook or as its evaluation of the efficacy and costs of such purchases evolved," according to the minutes of the Federal Open Market Committee's Jan. 29-30 meeting released today in Washington.
The minutes showed policy makers were divided about the strategy behind Chairman Ben S. Bernanke's program of buying bonds until there is "substantial" improvement in a U.S. labor market burdened with 7.9 percent unemployment, with some saying an earlier end to purchases might be needed, and others warning against a premature withdrawal of stimulus.
"They're changing the debate toward when to scale it down rather than debating the point where it suddenly ends," said Jim O'Sullivan, chief U.S. economist at High Frequency Economics in Valhalla, New York. "With the economy looking more solid than they feared a few months ago, financial sector risks take on more importance."
At their December meeting, Fed officials debated the date for ending their bond purchases, with officials "approximately evenly divided" between those favoring mid-2013 and those favoring a later end, according to minutes from the meeting. Today's minutes didn't indicate a discussion of dates.
Achieve Consensus
Slowing rather than stopping the pace of monthly purchases "is the easiest way to get a consensus" among policy makers, said Drew Matus, senior U.S. economist at UBS Securities in Stamford, Connecticut. "The people who will want to continue liquidity will want more purchases and the hawks will say let's cut them off and the natural compromise is some sort of tapering."
The Standard & Poor's 500 Index fell 1.1 percent to 1,513.73 at 3:32 p.m. in New York. The yield on the 10-year Treasury declined to 2.01 percent from 2.03 percent yesterday. The yield has risen from 1.72 percent since the Fed announced new bond buying on Sept. 13. Gold futures extended declines.
The FOMC at its January meeting decided to continue buying $45 billion a month of Treasuries and $40 billion in mortgage-debt without setting a limit on the duration or total size of the purchases. Policy makers also affirmed their pledge to keep the target interest rate near zero "at least as long" as unemployment remains above 6.5 percent and inflation is projected to be no more than 2.5 percent.
Taper Off
A number of officials said that their evaluation of costs and benefits of the policy "might well lead the Committee to taper or end its purchases before it judged that a substantial improvement in the outlook for the labor market had occurred," according to the minutes.
"Several others argued that the potential costs of reducing or ending asset purchases too soon were also significant, or that asset purchases should continue until a substantial improvement in the labor market outlook had occurred," the minutes showed. The minutes don't give the names of officials or specify the precise number holding a given view.
The minutes said that the committee would conduct a review of the asset purchases at the March 19-20 meeting. Fed officials are also considering new ways to present economic projections in their public communications. Many participants expressed interest in using their quarterly economic projections to convey information about future asset purchases and the Fed's balance sheet, according to the record of the meeting.
'Challenges Remained'
Participants "on the whole" said markets had adapted to the FOMC's December decision to link interest rate policy to inflation and unemployment instead of to a date, while "a few participants stated that communications challenges remained."
"One participant commented that some market participants appeared to have incorrectly interpreted the thresholds as triggers that, when reached, would necessarily lead to an immediate rise in the federal funds rate," the minutes said.
"A couple" of officials said the policy would be more effective if the FOMC gave a consensus expectation for the main interest rate after the economy crossed a certain threshold.
Bernanke after the discussion asked the communications subcommittee to suggest a new way to communicate officials' views on the policy toward the Fed balance sheet.
With inflation below their long-term goal of 2 percent, policy makers are forging ahead with record accommodation to stoke an economy that shrank 0.1 percent last quarter. The Fed has pushed the benchmark interest rate close to zero and expanded its balance sheet to more than $3 trillion.
Fed Exit
The minutes said "many participants" expressed concern about "potential costs and risks arising from further asset purchases." Several discussed "possible complications" that additional purchases could have as the Fed begins to exit the policy, a few mentioned inflation risks, and some mentioned risks to financial stability.
"Several participants noted that a very large portfolio of long-duration assets would, under certain circumstances, expose the Federal Reserve to significant capital losses when these holdings were unwound," the minutes said. "Others pointed to offsetting factors, and one noted that losses would not impede the effective operation of monetary policy."
Growth in the world's largest economy unexpectedly stalled in the last three months of 2012 as inventories grew at a slower pace and military outlays plunged by the most in 40 years.
The FOMC said in a statement after its meeting last month that "growth in economic activity paused in recent months, in large part because of weather-related disruptions and other transitory factors." The committee predicted the expansion will proceed at a "moderate pace."
Break Ground
The recovery in housing -- the industry at the heart of the financial crisis last decade -- shows signs of momentum. Builders broke ground last month on the most U.S. single-family homes in more than four years, with starts of one-family homes rising 613,000, up 0.8 percent from December, Commerce Department figures showed today.
The housing rebound is spurring companies in other industries, including CSX Corp., the largest East Coast rail carrier. The company estimates 5 percent to 6 percent of its volume is "indirectly or directly tied to the housing market," said Fredrik Eliasson, chief financial officer. "As we see that market continue to recover, we expect to see benefits," he said during a Feb. 14 conference.
'Fully Healthy'
At the same time, "with unemployment at almost 8 percent, we are still far from the fully healthy and vibrant conditions that we would like to see," Bernanke said last week at a meeting in Moscow of his counterparts from the Group of 20.
The economy will grow 1.8 percent this year, according to the median estimate in a Bloomberg survey of economists. That will be too weak for much progress in the unemployment rate, which will average 7.7 percent this year, according to the survey.
While assessing the outlook for growth and unemployment, policy makers are debating the risk unconventional easing may speed up medium-term inflation or create price bubbles for some types of assets. At the current rate of bond purchases, the central bank's record $3.08 trillion balance sheet will grow this year by $1.02 trillion.
Excessive Risk
Fed Governor Jeremy Stein said this month some credit markets, including leveraged loans and junk bonds, show signs of potentially excessive risk-taking. The asset purchases could also complicate the central bank's strategy to return its balance sheet to more normal levels. The Fed in 2007 held less than $900 billion in assets.
Kansas City Fed President Esther George said last week the central bank may trigger instability in financial markets when it starts selling bonds.
The Fed's plan for selling securities "could be potentially disruptive to markets and market functioning," George said in a speech at the University of Nebraska-Omaha. "These actions are untested by the Federal Reserve and could cause an unwelcome rise in mortgage interest rates."
To contact the reporters on this story: Joshua Zumbrun in Washington at jzumbrun@bloomberg.net;
To contact the editor responsible for this story: Chris Wellisz at cwellisz@bloomberg.net