Obama Ready to Propose $1.5 Trillion Plan: McDonough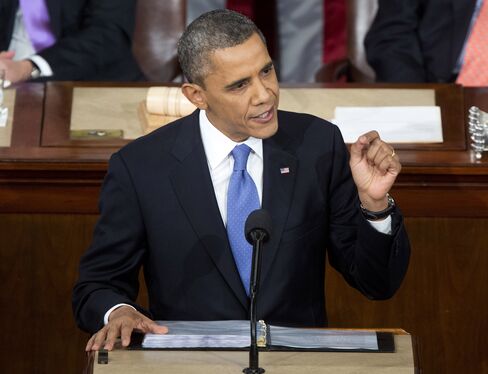 President Barack Obama is ready to work with Republicans to avoid automatic budget cuts that could cripple U.S. defense and programs vital to the middle class, White House Chief of Staff Denis McDonough said.
The president has a plan to reduce the deficit by $1.5 trillion, and Obama will insist that the changes happen in a "balanced way," which includes revenue increases, McDonough said on ABC's "This Week" program, one of three appearances he made on the Sunday morning news shows.
"This is not an ideological effort," McDonough said. "This should not be a social-science experiment. This should be a question where we ask ourselves, 'What is most important to the economy? What is most important to the middle-class families of this country?'"
The U.S. economy stalled during the last three months of 2012, marking the worst quarter since the recession ended three and a half years ago, as defense spending tumbled by the most since 1972. Without action by Congress, the federal government is poised next month to begin the first round of $1 trillion in across-the-board budget cuts set to occur over the next nine years, adding another potential drag to the economy.
Republicans stood firm in opposing any plan that relies on revenue to close the budget gaps. With no budget from the Senate and few specific details from the president about spending cuts, it looks like the automatic reductions will take place, Representative Paul Ryan, the chairman of the House Budget Committee, said on "This Week."
Tax Loopholes
House Republicans oppose raising revenue through closing tax loopholes because that wouldn't do much to close the deficit, Ryan said. At the same time, it would make comprehensive tax reform, which is essential to improving the economy, much harder to do later, he said.
"We want to prevent a debt crisis from hurting those who are the most vulnerable in society, from giving us a European-like economy," said Ryan, a Wisconsin Republican. "In order to do that, you've got to get the debt and deficit under control, and you've got to grow the economy."
Senate Democrats have proposed delaying the automatic spending reductions by 10 months, offering an alternative $110 billion plan that would cut defense spending, end direct aid payments to farmers and set a minimum income-tax rate on top earners.
The Congressional Budget Office estimates that the automatic cutbacks could subtract 0.6 percent from the gross domestic product's growth this year, enough to eliminate 750,000 jobs.
Immigration, Hagel
On immigration, McDonough defended a draft White House proposal, details of which were published Saturday in USA Today, that would allow undocumented immigrants to apply for legal status to stay in the country and eventually become citizens. Senator Marco Rubio, a Florida Republican who has been working on a bipartisan immigration plan with seven other senators, told USA Today that the draft was "half-baked" and "dead on arrival" in Congress.
The Obama administration is talking to all the parties involved and is anxious to see a congressional proposal it could work with, McDonough said.
On another topic of concern -- the nomination of Chuck Hagel as secretary of defense -- Senator John McCain, a senior member of the Armed Services Committee who opposes his former Senate colleague's confirmation to the Pentagon post, said on NBC's "Meet the Press" that Republicans shouldn't hold up the nomination any longer, even though the Nebraska Republican's positions are "far to the left" of the mainstream.
"We will have a vote when we get back" from this week's break for the Presidents Day holiday, the Arizona Republican said. "I'm confident that Senator Hagel will probably have the votes necessary." Democrats have scheduled a confirmation vote for Feb. 26.
Before it's here, it's on the Bloomberg Terminal.
LEARN MORE