Where to Power Lunch in Des Moines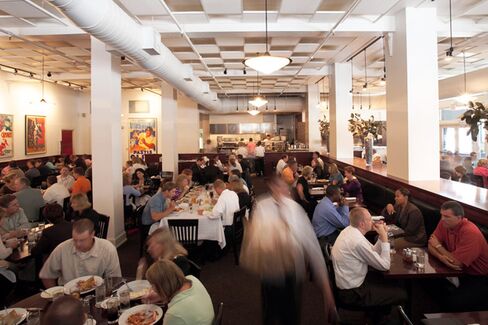 New York's publishing industry has dined out on lavish expense accounts across Midtown Manhattan for decades. But for the legions of workers at Time Inc., the largest magazine publisher in America, the institution of the "power lunch" may soon experience a stark change of scenery, should Meredith Corp. (MDP) purchase most of Time Inc.'s magazines from Time Warner and relocate the operations to Meredith's headquarters in Des Moines.
For those new to Des Moines's dining scene, here's a handy guide.
1. Centro
Helping New Yorkers Feel at Home: Three dishes with "New York" in the name
Funky Decor: A former Masonic Temple
Liquid Lunch: $2 up-charge for hard liquor served "neat." Where have we heard this before?
Sample Menu Item: Buttermilk Fried Chicken Salad, $15.50
Diner Online Review: "The waiter dude definitely showed some professionalism."
Power Table: "Undoubtedly table 49," says Centro co-founder and partner Paul Rottenberg. The corner four-top banquette "provides equal parts privacy and an ideal vantage point to scan the main dining room." The table's prime location makes it "enviable for any mover and shaker."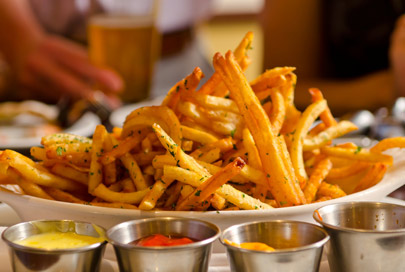 2. Des Moines Embassy Club
Helping New Yorkers Feel at Home: Must be a member to dine here
Funky Decor: 101-year-old chandeliers
Liquid Lunch: Martinis made with fresh ingredients from herb gardens surrounding the restaurant
Sample Menu Item: Lobster Spaghetti, $17
Diner Online Review: The first rule of Embassy Club is that nobody talks (online) about Embassy Club
Power Table: Three "Say Yes" tables, which according to culinary director Michael LaValle are usually occupied by "the president of the bank downstairs, the lead counsel at a local law firm, and the retired head of an insurance company."
3. Alba Restaurant
Helping New Yorkers Feel at Home: Notoriously slow and surly waitstaff
Funky Decor: Doors suspended from the ceiling
Sample Menu Item: Duck Terrine & Fried Egg sandwich, $7.50
Diner Online Review: "Salt is not a flavor like everywhere else we ate."
Power Table: "Um … I guess you could sit near the window," says owner Jason Simon. "You can see the Capitol Building. That's kinda cool."
4. Django Restaurant
Helping New Yorkers Feel at Home: iPad drink menu
Funky Decor: Midwestern French
Liquid Lunch: Absinthe cocktail
Sample Menu Item: "Le Cheeseburger," $9.99
Diner Online Review: "OMG bacon syrup … you MUST try."
Power Table: The "Wine Alcove" is a prominent spot, says general manager Mike Crownover. "You've got the wine shelving area on one side of your table, and windows on the other. It's windows and wine. It's very popular for business lunches."
5. Zombie Burger
Helping New Yorkers Feel at Home: "Dead Moines" burger a punny reminder that you now live in the middle of nowhere.
Funky Decor: Zombie wall murals
Liquid Lunch: Milkshake spiked with booze
Sample Menu Item: "We're Coming to Get You Barbara" grilled cheese, $11.79
Diner Online Review: "The staff is pretty hot" (not that it matters or anything).
Power Table: Chef and co-owner George Formaro recommends one of only two communal tables in the center of the dining room. "Their prominent location and bar height makes them the most visible and hard-to-get seats in the restaurant," he says.
Before it's here, it's on the Bloomberg Terminal.
LEARN MORE