Leaky Tank at Hanford Nuclear Site Roils Waste Cleanup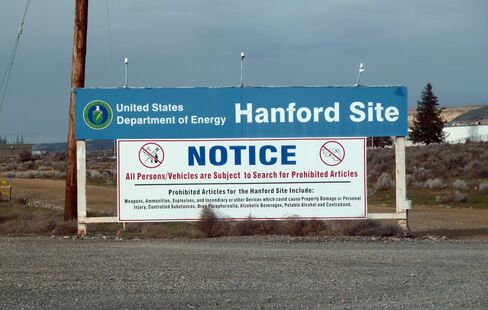 Feb. 16 (Bloomberg) -- A storage tank at the Hanford nuclear site in Washington state is leaking as much as 300 gallons of radioactive sludge a year, Governor Jay Inslee said, marking the latest setback in a decades-long clean-up effort.
The leak doesn't pose an immediate public health risk, Inslee said yesterday in a statement, citing information from the U.S. Energy Department, which owns the facility and is overseeing the clean-up. Still, he said, the release of the hazardous sludge left him "deeply concerned."
"This was a problem we thought was under control years ago," said Inslee, who is to meet with Energy Secretary Steven Chu during a previously scheduled trip next week to Washington to discuss the progress in cleaning up Hanford. "I know this is a time of tight budgets, but with an active leak of high-level radioactive material into the environment, money can't be an excuse for inaction."
The leaky tank is among 177 stored underground at Hanford, a federal government site for radioactive waste generated by U.S. nuclear weapons production. Decontamination of the facility has been stymied by delays and technical issues, causing its projected cost to triple since 2000, according to a U.S. Government Accountability Office report in December.
Multiple safety violations and design deficiencies have been found with the project to clean up Hanford, located about 170 miles southeast of Seattle, according to the GAO report. The GAO, Congress's investigative arm, recommended stopping construction on pre-treatment and waste facilities there until the design meets nuclear-industry guidelines.
'Significant' Challenges
The Energy Department faces "significant technical challenges" in successfully constructing and operating the Hanford facility, the report said.
Bechtel National Inc. was awarded a contract to design and build the waste-treatment facility in 2000. Since then, the estimated completion cost has tripled to $13.4 billion and the plant's opening has been delayed until 2019, according to the GAO report.
Michelle Michael, a spokeswoman for Bechtel, referred calls to Washington River Protection Solutions, the company contracted to handle the waste until Betchel finishes building the processing plant. Their spokesman, Rob Roxburgh, did not immediately respond to a voice message seeking comment left after business hours.
Lori Gamache, an Energy Department spokeswoman, said the agency observed that liquid levels in the tank had fallen and was still evaluating how best to respond. Radiation monitors haven't picked up any significant changes in the soil at Hanford since the low level was discovered, she said in an interview.
'Fact-Finding Visit'
Senator Ron Wyden, an Oregon Democrat and chairman of the Senate Energy and Natural Resources Committee, has scheduled "a fact-finding visit" to Hanford on Feb. 19 that will include "a briefing on efforts to clean up the estimated 56 million gallons of radioactive waste stored at the facility," according to a Feb. 14 statement on his website.
Nine nuclear reactors and processing facilities produced plutonium at Hanford, which operated from 1944 to 1987. The man-made radioactive element was used in atomic bombs, including the one dropped on Nagasaki, Japan, in 1945 that helped to end World War II. Workers are trying to clean up millions of gallons of toxic waste at the complex.
The leaky tank, which can hold 530,000 gallons of liquid, is one of 149 constructed with a single shell. It was built in 1943-1944 and was thought to have been stabilized in 1997 when all pumpable liquids were removed as part of a clean-up effort, according to an Energy Department statement.
Columbia River
The tank holds about 447,000 gallons of sludge, which is a mixture of solids and liquids with a mud-like consistency, the Energy Department said. Inslee said the tank is leaking from 150 gallons to 300 gallons a year.
The Energy Department has expressed concern that contamination from the single-shell tanks may be making its way toward the nearby Columbia River, which supplies drinking water and agricultural irrigation, according to the GAO report.
"Containing, stabilizing, and preparing this highly radioactive liquid waste for final disposal is one of the highest priority cleanup activities at the Hanford site," the GAO report said. "It is also one of the most complex."
The Defense Nuclear Facilities Safety Board, an independent panel that advises President Barack Obama and the Energy Department, is monitoring the agency's response to the leak, according to Peter S. Winokur, the board's chairman.
So far, the Energy Department has taken all of the appropriate measures, Winokur said yesterday in an interview.
"This is not a new issue or concern for them at the tank farms," he said. "There have been a fair number of leaks among tanks at the site in the past, and the department is well aware of that and that's why they're continually checking the liquid levels."
The Energy Department has lowered the liquid levels on the tanks to get them below known leak sites, Winokur said.
To contact the reporters on this story: Alison Vekshin in San Francisco at avekshin@bloomberg.net; Jim Snyder in Washington at jsnyder24@bloomberg.net
To contact the editors responsible for this story: Jon Morgan at jmorgan97@bloomberg.net; Stephen Merelman at smerelman@bloomberg.net