Startups Shake Up the Sleepy Vibrator Market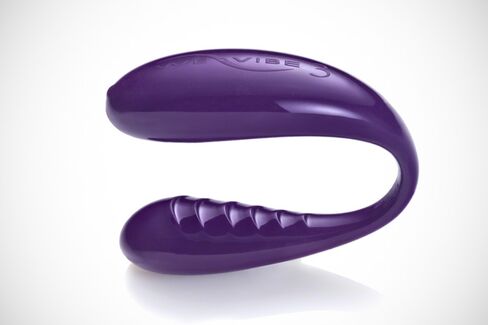 This Valentine's Day story starts with a little rejection. A few years ago, Michael Topolovac and Ti Chang set out to build a better vibrator: a dual-motor concept that uses a USB port to recharge. Unable to get approved to pitch the crowds on Kickstarter, they tapped one of its lesser-known counterparts, CKIE, ultimately raising just over $100,000—more than six times what they initially sought. "It completely blew us away," says Topolovac, a 45-year-old serial entrepreneur. Adds Chang, a 33-year-old industrial designer: "It really indicated that people are ready and really wanting this."
Today, their four-employee San Francisco business, Crave, is introducing a handful of devices, including a vibrator that looks like an eye mascara container, both online and at boutiques around the country. It's one of a new breed of startups yearning to innovate in the relatively sleepy vibrator market, more than a century after Hamilton Beach patented the first electric unit available for retail sale. Like behemoth brands such as Trojan, which started Trojan Vibrators in 2010, these newcomers are willing to experiment.
Launched in 2008 with less than $1 million in funding, Bruce and Melody Murison's first product was the We-Vibe, a C-shaped dual vibrator designed to be enjoyed by both partners while having sex. Their 40-employee Ottawa (Canada) company, Standard Innovation, has since introduced a slew of other gizmos and sold a total of more than 2 million units online and in stores around the world. "While we use technology to make our lives better every day, it seems that few companies have applied that thinking to making our sex lives better," says Danny Osadca, Standard's chief executive.
To stay relevant, relying on old hits doesn't work, Osadca explains. He notes that the company spends 4 percent to 6 percent of its annual revenue on research and development and is working on its fourth-generation We-Vibe. Its engineers use a silicone-molding studio, 3D printers, and more than 400 mannequins with anatomically correct internal organs to develop and test prototypes. Late last year, the company launched a solo product called Thrill.
Oscada attributes customer loyalty and consumers' evolving appetites to Standard Innovation's recent growth. He says the company last year had $35 million in revenue, and he expects $45 million to $50 million this year. "Because we have the tools and expertise at our in-house R&D lab, we have the ability to evolve products quickly based on feedback and testing, giving us a definite advantage over those who outsource," says Grant Bechthold, vice president of product development. (Before he signed on to build better vibrators, Bechtold made bomb-disposal suits and devices to counter roadside explosives.)
Pioneering high-quality products is similarly important for Crave. "USB charging didn't come about from customers saying, we want a USB charging vibrator," says Topolovac. "It came about from customers saying batteries are a freakin' hassle." Topolovac explains innovation isn't about using new technology; it's about improving the experience by eliminating, for example, the need to run to the store for AAs or to remember to get another charger to plug into the wall.
Chang, who founded her own intimate accessories brand, Incoqnito, before joining Topolovac to launch Crave, is adamant that demand for better design is increasing. "I think normal women will become a lot less apologetic about having or owning vibrators," says Chang. "With the products becoming more mature and well designed for their life, I wouldn't be surprised if vibrators are lying around the house."
Before it's here, it's on the Bloomberg Terminal.
LEARN MORE