M&A News: Comcast, GE, Cnooc, Nexen, Hakon Invest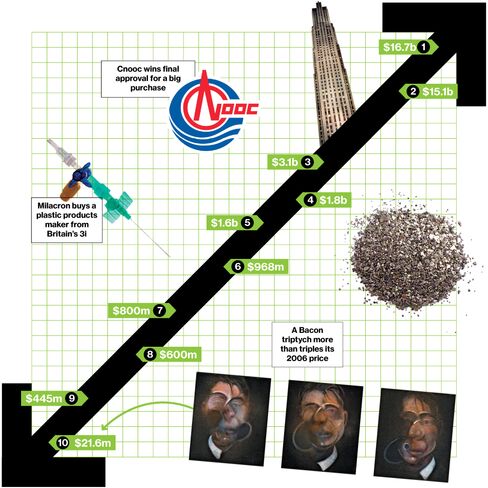 1. Comcast is buying the rest of NBC Universal from General Electric for $16.7 billion and purchasing GE's 30 Rock building and CNBC's headquarters in New Jersey for $1.4 billion.
2. China's top offshore oil and natural gas producer, Cnooc, won approval from regulators to acquire the U.S. assets of Nexen, clearing the way for its $15.1 billion purchase of the Canadian energy company.
2. Sweden's Hakon Invest, minority owner of the country's largest food retailer, ICA, will take full control by acquiring partner Royal Ahold's 60 percent stake for $3.1 billion.
4. Swedish holding company H Intressenter bid $1.8 billion to buy Hoeganaes, which makes iron and metal powders.
5. St. Louis-based Charter Communications will buy Cablevision Systems' Optimum West for $1.6 billion, gaining more than 360,000 customers in Montana, Wyoming, Colorado, and Utah.
6. Britain's oldest private-equity firm, 3i Group, will sell Mold-Masters, a manufacturer of plastic equipment, to Cincinnati-based Milacron for $968 million.
7. Lehman Brothers Holdings, which is liquidating the assets of the failed investment bank, has a tentative deal to sell 237 Park Ave., a 21-story office tower near New York's Grand Central Terminal, for about $800 million.
8. Norway's sovereign wealth fund, the largest in the world, will pay about $600 million for a 49.9 percent stake in five U.S. office properties in New York, Washington, and Boston.
9. São Paulo-based Abril Educação will purchase Wise Up, which teaches foreign languages to Brazilians, for $445 million.
10. Francis Bacon's triptych Three Studies for a Self-Portrait fetched $21.6 million at a London auction. Its owner had bought it for $5.9 million in 2006.
Before it's here, it's on the Bloomberg Terminal.
LEARN MORE