Indonesia's Big Banks Lead the World in Profit
Scooter loans and high interest help put Indonesian lenders on top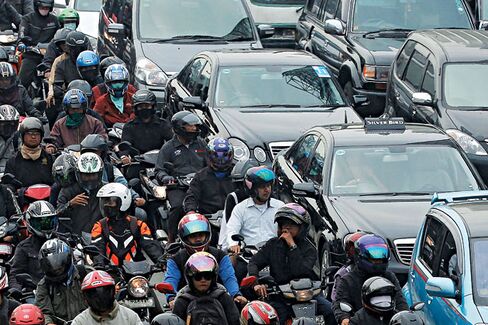 The lime-green Yamaha Mio motorbike that Suryadi bought in 2011 to commute to his job pumping gas in Jakarta would have cost 11.8 million rupiah ($1,220) had he bought it outright. Instead he financed the purchase with a loan at 16 percent interest. Now the 44-year-old father of three is making monthly payments to Bank Danamon Indonesia that eat up about one-fifth of his salary. He'll end up paying 46 percent more than the cost of the bike by the time he retires the loan. "I don't have the money to pay in cash," says Suryadi, who like many Indonesians goes by one name. "Paying in installments is all I can afford."
Amid growth that the Organisation for Economic Co-operation and Development projects will average 6.4 percent during the next four years, cash-strapped borrowers like Suryadi have helped make Indonesian lenders the most profitable among the 20 biggest economies, according to data compiled by Bloomberg. The average return on equity is 23 percent for the five banks with a market value of more than $5 billion, the data show. That's greater than the average 21 percent returns at similar-size banks in China and more than double the 9 percent in the U.S. The Indonesian banks' impressive financial performance is built on loans with an average interest rate of 12 percent—and deposit rates that average 4.6 percent interest, according to Bank Indonesia, the country's central bank. "There's plenty of demand for credit but limited supply," says Ken Timsit, a Jakarta-based partner and managing director at Boston Consulting Group.
Lenders' profits in the world's 16th-largest economy might have been even higher if Indonesian banks weren't also among the most inefficient. The nation's biggest lenders spend as much as 4 percent of their total assets on operating expenses like maintaining branch networks, compared with 2 percent in Malaysia and 1 percent in Singapore, says Timsit. Alexander Chia, a Kuala Lumpur-based analyst at RHB Capital, blames Indonesia's geography: More than two-thirds of the archipelago's 242 million people are spread throughout rural areas on its 6,000 inhabited islands.
The banks make up for high branch network costs by hiking lending rates, says Robby Hafil, an analyst at Trimegah Securities in Jakarta. "As long as operations remain inefficient," he says, "this practice will continue." Some banks charge as much as 30 percent interest on loans, according to a Citigroup report.
One hurdle will be getting deposits to keep pace with loans. Through the first 11 months of last year, total loans in Indonesia's banking system increased 20.3 percent, to 2,647 trillion rupiah, while deposits rose 12.4 percent, to 3,130 trillion rupiah, according to Bank Indonesia. That's because Indonesia is a "cash society," says Pahala Mansury, director of finance at Bank Mandiri, Indonesia's second-largest lender by market value. "Even money that is in Indonesia isn't being deposited in the banking system." This may constrain lending growth, as the central bank only allows total loans to exceed deposits if a bank's capital ratios are above the regulator's comfort level. "Maybe there is demand to borrow, but whether banks can provide the kind of liquidity that is required in the next four to five years will become a very serious issue," says Mansury.
Halim Alamsyah, a deputy governor of Bank of Indonesia, says he expects loans to increase 23 percent this year. There's plenty of room for growth: As profitable as Indonesia's banks are, they lend to only 28 percent of the population, or about 67 million people, according to World Bank data. Suryadi, the gas station attendant, says he's saving to build a house that may cost about 50 million rupiah and, he says, "I would like to borrow some money."
Before it's here, it's on the Bloomberg Terminal.
LEARN MORE