Francisco Aguilar: Keeping First Responders Safe
Keeping First Responders Safe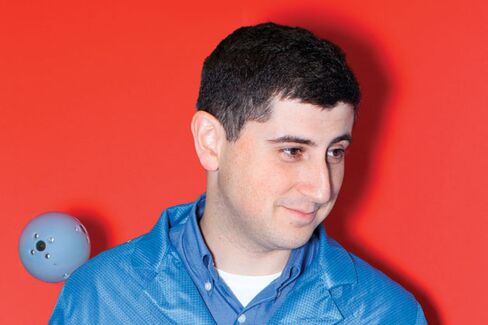 Francisco Aguilar foresees a day when beat cops will have the same search-and-surveillance capability as SWAT team members. The 29-year-old entrepreneur has invented a palm-size rubber ball embedded with six tiny cameras and sensors that officers can throw into a dangerous area such as a bomb site or a vulnerable building after a weather disaster. The device, called the Bounce Imaging Explorer, instantly transmits audio, panoramic photos, and environmental data to officers' smartphones so they can make an initial assessment before getting in harm's way.
Aguilar points to the recent shootings at Sandy Hook Elementary School in Connecticut and a movie theater in Colorado as potential uses for the device. "We're dealing with people who want to maximize damage as quickly as possible," he says. "Officers aren't able to wait for a SWAT team. They have to respond quicker, and they are basically going in blind."
A former analyst with the Bridgespan Group, a nonprofit consulting firm, Aguilar came up with the idea while reading about the 2010 earthquake in Haiti. After that crisis, he says, thousands of people were buried in rubble, yet few search teams had the expensive fiber-optic cameras needed to find victims. He founded Bounce Imaging last year while working toward an MBA at the Massachusetts Institute of Technology and a master's in public policy from Harvard's Kennedy School of Government.
At MIT, he met classmate and co-founder David Young, who had served in the U.S. Army and spent time in Iraq and Afghanistan searching for improvised explosive devices. After winning $60,000 in entrepreneurship competitions, they were able to improve their prototype, adding a microphone and designing features for a variety of first responders. For firefighters, they added sensors to detect hydrogen cyanide and carbon monoxide. Aguilar says the company is now raising seed funding, and expects to start production by the end of the year.
The company could have difficulty breaking into the first responder market, says Glenn Mattson, an analyst who covers Taser International at Sidoti & Co., an equity research firm. "It's a fragmented customer base. There's no large buyer," he says. It also faces a challenge keeping the Explorer affordable for police and fire departments. Aguilar originally planned to price it from $200 to $500. Improving the ball's ruggedness increased the expected price to $500 to $1,000, though it's still far cheaper than robots and other surveillance equipment.
Prior to joining Bridgespan, Aguilar was an energy trader at DC Energy, and as a graduate student interned with Roshan, a wireless company in Afghanistan. There, he says, he saw how much villagers' quality of life improved when they got a basic cell phone. That taught him a valuable lesson. "A simple tool," he says, "can be much more empowering than some massive effort."
Before it's here, it's on the Bloomberg Terminal.
LEARN MORE