Congress Starts to Take the Internet Seriously
Fitfully, and largely out of fear, Washington begins to take the Web seriously
One day last October, more than 100 congressional staffers crammed into a room on the second floor of the Rayburn House Office Building to listen to four lawyers discuss smartphone and tablet patent litigation. The chief of staff for the House Judiciary Committee came a few minutes late and couldn't get a seat. This is a typical scene these days at the periodic lunchtime lectures put on by the Congressional Internet Caucus, a bipartisan collection of 125 House and Senate members who are, in the words of their mission statement, "working to promote the promise and potential of the Internet." Third on the list of the caucus's goals: "Promoting the education of Members of Congress and their staff."
Tim Lordan, executive director of the Internet Education Foundation, a nonpartisan think tank that advises the caucus and arranges information sessions, says the number of members and staff looking for that education is "staggering." In the early 2000s, he says, he'd be lucky if 40 people showed up at an event—and back then they served a hot lunch. In those days, the ability to speak knowledgeably about how the Web works wasn't highly prized on Capitol Hill. Members who had no problem bluffing their way through answers about the intricacies of the Israeli-Palestinian peace process or the effects of marginal tax rates on worker productivity thought nothing of expressing befuddlement at the "series of tubes" that were coming to dominate U.S. culture and the economy. Until just a few years ago, Congress largely left decisions about regulating the Internet to a handful of committees responsible for science, commerce, and law, where a small number of members took the time to learn the difference between DNS and an IP address.
That's changing, in part because Internet policy no longer fits in a single hearing room—today even members of the House Committee on Agriculture must be up on broadband access in rural areas—but also because no one in Washington wants a repeat of what happened a year ago, when the Internet rose up and made the U.S. Congress look clueless.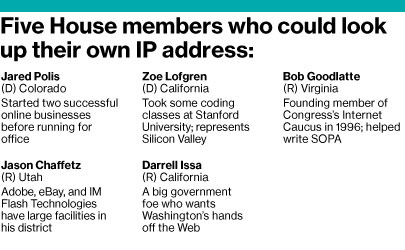 In January 2012, Congress was on the verge of overwhelmingly passing the Stop Online Piracy Act, a bill backed by Hollywood and the recording industries that would have given law enforcement more power to shut down websites suspected of pirating movies and music and selling counterfeit products. Republican Representative Lamar Smith of Texas, who introduced the bill, said it "protects consumers, businesses, and jobs from foreign thieves who steal America's intellectual property."
About a half-dozen members of Congress worried publicly that SOPA could lead to chaos online. The bill defined copyright violations very broadly, potentially ensnaring websites that hadn't broken the law. Its wording presumed guilt and appeared to disregard the First Amendment, allowing the government to choke off money and traffic to a site under suspicion. The method it used to block offending sites was, awkwardly, the same one China uses to thwart Western news organizations. SOPA's opponents, including Facebook, Google, Twitter, Wikipedia, and Reddit, sent a letter to Congress warning the bill would kill Web commerce and break the Internet.
Representative Jason Chaffetz, a Utah Republican, tried to get colleagues to understand these concerns. At a December 2011 committee hearing where members were working out the bill's details, he implored them to slow down. He pointed to Domain Name System Security Extensions—a critical component of the Web architecture that matches site names to server locations, which SOPA could disrupt. "I would say if you don't know what DNSSEC is, you don't know what you are doing," he said.
Chaffetz told his colleagues there were only three other House members in the room who knew how it worked: Colorado Democrat Jared Polis, California Republican Darrell Issa, and California Democrat Zoe Lofgren. Out of 535 members of Congress, the four of them, along with Republican Representative Bob Goodlatte, who was a founding member of the Internet Caucus in 1996, and Senator Ron Wyden, an Oregon Democrat, are widely recognized as the most fluent in the language of the Web. At the December meeting, several members admitted they didn't understand the technology they were supposed to regulate. "Some people might have thought it was amusing," says Lofgren. "It was not amusing."
As a group, Congress's Web literates don't have much in common in the usual political sense. They come at the Internet from different angles: Lofgren represents Silicon Valley and dabbled in coding in the 1980s; Issa and Chaffetz are small-government conservatives who want Washington to keep its hands off the Web. All three sit on the Judiciary Committee and agree that SOPA was trouble. Only Goodlatte, the committee's chairman, defended SOPA, which he co-sponsored and helped write.
On Jan. 18, 2012, as SOPA neared passage, Wikipedia went dark in protest. Google blacked out its logo and urged users to "Tell Congress: Please don't censor the Web!" The Capitol switchboard was deluged. "It was a very important day," Lofgren says.
That afternoon, Chaffetz was standing on the floor of the House when a fellow Republican approached to show him a text message from his teenage son: "Dad, you aren't supporting this SOPA thing, are you?" Chaffetz says his colleague pointed to the screen and said, "You guys are on to something." Two days later, House and Senate leaders shelved the bill. "It's true," Lofgren says. "SOPA scared Congress."
Politicians in Washington are wary of finding themselves on the wrong side of the next big Internet bill. Yet most can't figure out what the wrong side is, which may explain the swelling numbers of congressional staffers packing meetings of the Internet Caucus. Members are boning up in anticipation of coming debates about online privacy, cybersecurity, copyrights and patents, telecom regulation, digital medical records, and net neutrality, which will involve numerous committees whose members will need more than a passing knowledge of the Internet.
By one measure, the Senate appears to be ahead of the House in this crash course. According to Lordan's estimates, 75 senators have at least one staffer working full-time on issues related to technology—and, presumably, helping the boss look smart. In the House, there are about a dozen. At Internet Caucus events, Lordan finds some members are still impatient for easy answers to hard questions. "They just want to get to the meat of it," he says. " 'Which way should I vote?' Well, it's complicated."
Before it's here, it's on the Bloomberg Terminal.
LEARN MORE