Poland Spring's Missed State of the Union Opportunity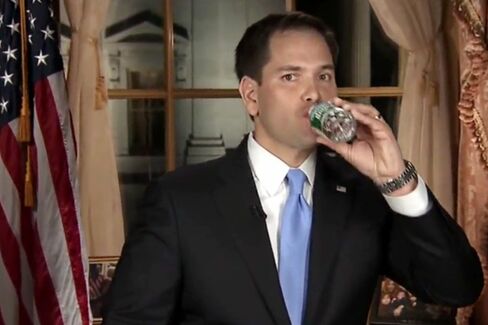 On a night of 1.4 million tweets, it was a little water bottle that created the most froth. After President Obama made his case for a higher minimum wage and new gun control measures, Florida Senator Marco Rubio's awkward sip of water in the middle of the official Republican response became the meme that dominated social networks.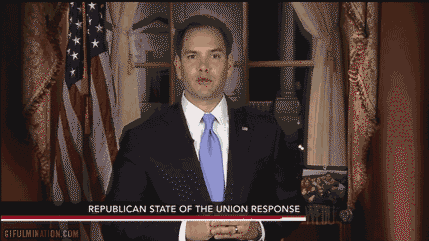 According to Twitter analytics service Topsy, tweets that included the terms 'Rubio' and 'water' peaked at 57,466 mentions, far outpacing mentions for 'Desiline Victor', the 102-year-old Miami voter Obama mentioned in a section on voting rights, and #TheyDeserveAVote, a slogan (and ready-made hashtag) invoked by the president in his plea for a sensible discussion on gun control.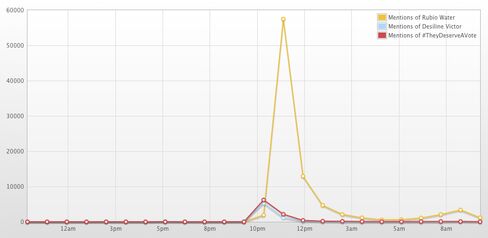 Rubio, likely recognizing the absurdity of the moment, sent this tweet shortly after finishing his speech, solidifying his personal 'Watergate' as the Twitter meme of the night: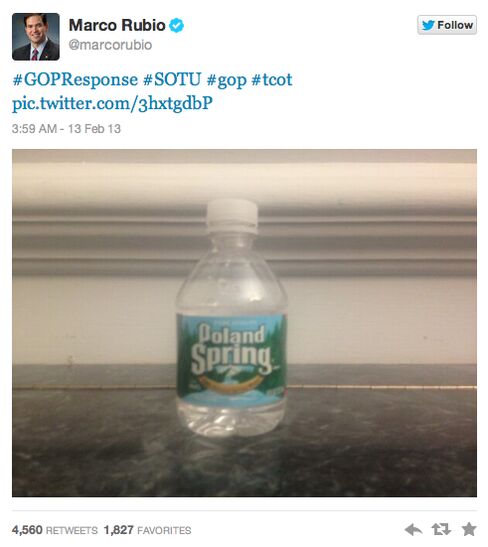 But where was Poland Spring when Rubio handed the company free advertising? The company's Twitter account has been inactive since July; its corporate account has been silent since January 2011. "Right now, their rep is frantically trying to remember the password," joked author Jory John on—where else?—Twitter.
"I had no idea we would get such a response to an impromptu sip of water," says Jane Lazgin, Poland Spring's media contact at Nestlé Waters North America, when reached for comment by phone.
This could have been a big moment for Poland Spring. In recent months, major broadcast events have proven golden opportunities for brands to engage in social marketing. They capitalize on ready-made (and accidental) memes and push their message into users' Twitter and Facebook feeds with a well-timed message. Some of these instances are easy to plan—Chevron promoted a tweet on the official #SOTU hashtag—while others, such as Oreo's much-discussed 'dunking in the dark' tweet during the Super Bowl's brief blackout, required a quick response from a marketing team that was poised to pounce.
Not every brand can have a team on standby for every major event, and it isn't clear that these kinds of marketing coups have any major impact on sales. Still, TV events are now two-screen experiences. Smart marketing teams know that buzzes are fleeting and, unlike water, impossible to bottle.
Before it's here, it's on the Bloomberg Terminal.
LEARN MORE