'Dish Mobs' Aim to Benefit Local Restaurants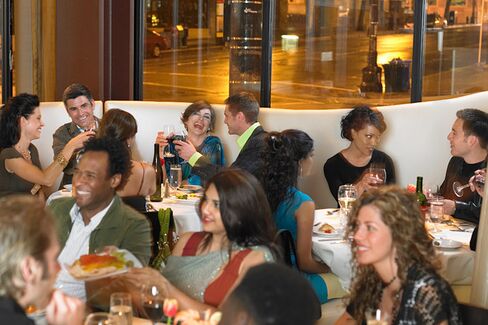 Over the past few years, hundreds of altruistic strangers across the country have been meeting for shopping sprees known as "cash mobs" at neighborhood shops to strengthen local economies. Spending at a neighbor's business instead of a big-box store like Target or Wal-Mart is better for the community because more of patrons' money stays local, their argument goes.
The face of the mobs in the U.S. is Andrew Samtoy, a Cleveland attorney. He doesn't get paid to organize them; he does it because he wants to "give back to businesses that support their communities." As I explained in a previous post, cash mobs aren't businesses like Groupon—organizers don't get a cut of sales, and they aren't shopkeepers. Samtoy guesses that 2,000 cash mobs have taken place around the world since he led his first one in Cleveland in the fall of 2011.
Last year, when dining deals site Restaurant.com approached him about funneling his mobs to a handful of its 18,000 partner restaurants, he agreed, and together they organized events in five cities with hungry folks forming "dish mobs." While other national businesses have tried to partner with Samtoy and fellow organizers, he says Restaurant.com was "the only one that made sense, as they respected us and our mission and did not try to dominate the whole process or go against the spirit of cash mobs."
The 12-year-old business, which predates and competes with Groupon, LivingSocial, and such companies, plans more dish mobs across the country, with Salt Lake City, Dallas, Orlando, Raleigh, and Baltimore scheduled in the coming weeks. Dish mobbers can buy deals (for example, a $10 certificate that's worth $25 in a restaurant) at participating restaurants through the site, or show up and get promotional goodies from a "street team" dispatched by Restaurant.com, which is based in suburban Chicago and has about 300 employees.
The group eating events are "not a marketing campaign for Restaurant.com," says Christopher Krohn, the company's president and chief marketing officer. His business will encourage dish mobs to mob nonpartner restaurants. Beyond injecting cash into cities and towns, the goal is for locals to "break the chain habit and try a place that's right around the corner that you've never discovered before," he says. The company's big, national-chain partners such as IHOP and Papa John's don't have any issues with the local events. "It's much more of a positive, 'Here's something good you can do in your community,' than it is negative—we're not looking to be negative at anyone," Krohn says.
For Samtoy's part, he's planning to spend less time this year organizing cash mobs in the U.S. and more time getting the word out internationally. While he's seen growth in the U.K., Germany, and Australia, "Spain is absolutely massive right now," he says. He reasons that the popularity is due in part to Spain's record unemployment and Spaniards' desire to help each other, "because the politicians are clearly not doing it."
Before it's here, it's on the Bloomberg Terminal.
LEARN MORE