Why Michael Dell Really Had to Take Dell Private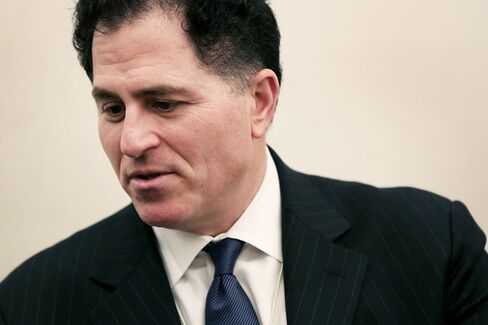 Back in 2008, Michael Dell and I sat down for a chinwag at the company's headquarters in Round Rock, Tex. Even during those dark economic times, Dell's situation looked worse than those of a lot of its rivals. The company did not seem to have any answers to the changing market conditions around it. And Michael Dell, the famed entrepreneur, did not appreciate me pointing that out. He grimaced and bristled and gave me the silent treatment during what was meant to be an hour-long interview that lasted closer to 30 minutes. Dell sucked the air out of the room with his discontent.
In the intervening years, Dell has spent many billions of dollars buying up services, additional services, and even more of them, alongside software and hardware companies. It's all part of a grand strategy to become a one-stop technology and services shop for the small to mid-sized companies that IBM, Hewlett-Packard, Oracle, and Accenture don't seem to want to bother with. Last year, the strategy was good enough for Dell to post revenue of $62.1 billion and net income of $3.5 billion, while reporting cash flow from operations of about $1.5 billion per quarter.
When you look at these figures, it's clear that Dell's financial situation is not dire. The issue has been that investors see little upside in the company's still-massive PC business and seem to have zero faith that Michael Dell has another big idea in him. Over the past 10 years, investors have pushed Dell shares ever downward and have done so even more aggressively since Michael Dell returned as chief executive officer in 2007.
Add all these factors up, and it starts to become very clear why Michael Dell, Silver Lake, and Microsoft moved to take the company private on Tuesday. Dell was destined to face further years of scrutiny as his company tried to expand its higher-profit software and services businesses. While this may be sound strategy, it takes a long time to execute and certainly does not look revolutionary. Dell basically bought the IBM business plan and made some minor alterations. Michael Dell may be one of the wealthiest, most successful people this country has ever fostered, but such accomplishments must do little to soothe his ego as people ask, again and again and again, why the company has seemed so darned inept in such areas as smartphones and tablets and … well, anything interesting.
The worst-case scenario for Michael Dell would have occurred if an activist shareholder had gotten into the mix. Dell would have faced the prospect of being kicked out of the company that bears his name. I'm certain this is why Dell went private. Dell, Silver Lake, and Microsoft get a company that pumps out enough cash to keep all parties happy, while Michael Dell shields himself from being berated by analysts, investors, and the media. Best of all, he gets to keep his company.
At 47, Dell is still a young man and perhaps has another act left in him. A truly spectacular return to the public markets, though, would require a new idea that's as good as selling customers configurable computers at a low, low cost. Michael Dell has been searching for such an idea for five years—with little luck.
Before it's here, it's on the Bloomberg Terminal.
LEARN MORE