Startup Seeo Moves Toward a Safer Lithium-Ion Battery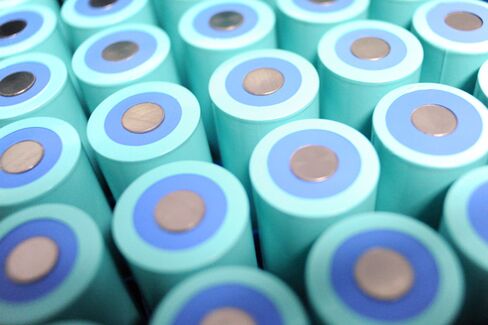 The unnerving capability of lithium-ion batteries to catch fire emerged as headline news last month, when Boeing was forced to ground its futuristic 787 Dreamliner fleet after two batteries caught fire. But the next generation of lithium-ion batteries promises to be safer, and a few are already starting to be used in real-world situations in the power grid, electric vehicles, and gadgets.
Six-year-old startup Seeo—backed by Vinod Khosla, Google Ventures, and others—has installed its first battery system to act in storing energy in conjunction with a solar panel system developed by SunEdison, according to Seeo Chief Executive Officer Hal Zarem, whom I interviewed last week. The solar battery installation is in a trial for now, but it's a sizable one, on the level of kilowatts and tens of kilowatts, explains Zarem. For comparison's sake, the Nissan LEAF uses a 24-kilowatt-hour battery, while an average cell phone will use 2,000 to 3,000 milliamp-hour batteries (far smaller than a kwh of capacity).
Batteries, such as the one Seeo has installed for SunEdison's solar system, can act as storage for the energy produced by solar panels so that when the sun goes down (or behind a cloud) the battery can then offer up the stored power. Utilities, building owners, and even homeowners are starting to see the benefits of having battery storage systems connected to solar systems because power can become far more smooth and reliable. Likewise, solar installer SolarCity has been working with Tesla's batteries to sell a home battery system with its solar panels in certain markets.
So what makes Seeo's batteries safer? It largely involves improvements to the electrolyte, or the medium that shuttles lithium ions back and forth between the cathode and the anode to charge and discharge the battery. Traditional lithium-ion battery electrolytes are mostly made of liquids, while Seeo is using a solid, dry polymer-based electrolyte that feels like plastic to the touch.
The polymer is non-flammable and when combined with lithium foil used as the anode, the battery can be ultra-light weight and also have a high-energy density (the amount of energy that can be stored per a given weight). During an interview at Seeo's headquarters last week, I picked up and compared two battery packs—one made by Seeo, and one using traditional lithium-ion batteries. The Seeo battery felt about three times lighter.
If traditional lithium-ion batteries are overcharged, they can have a danger-zone margin of error of about 20 percent above the battery's max voltage, explains Zarem. In contrast, Seeo batteries have a margin of error zone 100 percent over the voltage. Nor will the batteries burst into flames when penetrated, as can occur during a car crash.
Seeo isn't the only company working on solid electrolytes for batteries. This is a growing field for innovation, and startups such as Sakti3 and Imprint Energy are working on the technology, as are researchers at Oak Ridge National Laboratory.
Seeo has just started commercializing its technology and working with customers to test its batteries. The company has built a pilot production line at its headquarters in Hayward, Calif., where it can make 4 megawatt hours worth of batteries using such traditional manufacturing machines as coaters. I toured the pilot line last week and the team is indeed churning out small levels of Seeo batteries.
To get to the next level of manufacturing, which involves hundreds of Mwh—the kind of products that could start to change the game for solar energy storage or electric vehicles—Seeo plans to build a new factory this year in the U.S., somewhere close enough to the Hayward site for easy collaboration. It could be built in Hayward, says Zarem.
Seeo may have to raise funds to get such a plant built and probably has already started doing it, though Zarem declines to comment. That might prove difficult in 2013 after so many advanced battery companies such as A123 Systems struggled in 2012. Seeo wants eventually to build a larger plant, probably outside of the U.S., in a low-cost manufacturing region, says Zarem.
Along with Google Ventures and Khosla Ventures, Seeo also has backing from Chinese firm GSR Ventures and from Presidio Ventures, a fund managed by Japanese giant Sumitomo. Clearly, Seeo has strategic connections in overseas markets.
Zarem offers an interesting perspective on the past couple of years, in which a generation of large battery factories was built. Some, such as A123 Systems, used U.S. government funds to meet an anticipated market for electric cars, which he says will materialize, along with an energy-storage battery market for clean power.
Sometimes companies that are first to market either aren't the right ventures or they're too early, says Zarem—who hopes Seeo has timed its moves just right.
Also from GigaOM:
Cleantech Fourth-Quarter 2012 Analysis (subscription required)
How Social Media Is Becoming As Important a Live Event as the Live Event Itself
In Funding Small Business, Data Science Is Sometimes Just Common Sense
Facebook May Be Ready to Move on Location-Based Services
Sorry, Internet: the Super Bowl Still Happens Elsewhere
Before it's here, it's on the Bloomberg Terminal.
LEARN MORE