Singapore Bourse Says Open to Deals After LCH Bid Report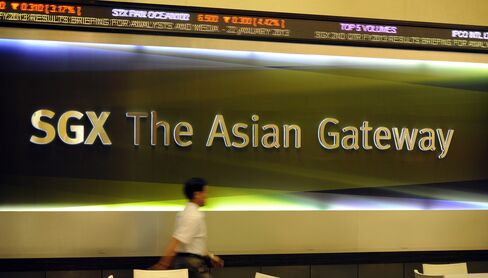 Singapore Exchange Ltd., operator of Southeast Asia's biggest stock market, said it is open to partnerships after the Financial Times reported it was in talks to buy a stake in LCH.Clearnet Ltd..
Singapore Exchange is in negotiations to buy a stake in LCH.Clearnet, Europe's biggest clearinghouse, or to become part of the deal in which the London Stock Exchange Group Plc is set to take a controlling 60 percent, the FT reported, citing three people it said were familiar with the situation. Singapore Exchange shares slipped 1.4 percent to S$7.72 as of 3:02 p.m. in the city state.
"As the Asian gateway, SGX is open to partnerships and alliances for the benefit of shareholders, the company and our customers," Carolyn Lim, a spokeswoman for the Singapore bourse, said in an e-mail. "However, we do not comment on media reports or speculation."
Clearinghouses, which help to mitigate risks by requiring collateral from members who execute buy and sell orders, have become attractive as new global rules require central processing of more types of transactions. Singapore Exchange's shares fell 5.3 percent through today after Australian Treasurer Wayne Swan quashed its bid for that country's main exchange operator in April 2011.
Asian Exchanges
Asian bourses have been seeking acquisitions. Hong Kong Exchanges & Clearing Ltd. completing its $2.2 billion purchase of London Metal Exchange in December. Japan's two biggest stock exchanges completed a merger last month while the Tokyo Commodity Exchange Inc. said it's talking with U.S. competitors to integrate trading systems and attract more overseas participants.
Hong Kong Exchanges' LME owns 8.1 percent of LCH.Clearnet, according to the London metal-trading venue's website. While LME uses LCH.Clearnet to manage risk, it is developing its own clearing platform, LME Clear, set to open in 2014.
"With no debts, a high cash balance and steady free cash flow, SGX has the financial capabilities to buy a stake in LCH.CLearnet," said Ken Ang, a Singapore-based analyst at Phillip Securities Pte. "The potential purchase would benefit SGX in providing a diversified source of revenue, although the attraction would depend on the purchase price."
The London Stock Exchange provisionally agreed to pay 15 euros a share for a majority stake in LCH.Clearnet in December. The two companies extended the deadline for takeover negotiations until Feb. 28. LSE reduced the bid from 20 euros a share amid concern European regulations will force LCH.Clearnet to boost capital.
LSE scrapped its $3.4 billion bid for TMX Group Inc., owner of the Toronto Stock Exchange, in June 2011 after failing to win support from TMX shareholders. Singapore's $8.8 billion bid for ASX Ltd. collapsed after Australian Treasurer Wayne Swan said in April 2011 the deal wasn't in the national interest.