The Super Bowl Loser 49ers Still Win in, Say, Chad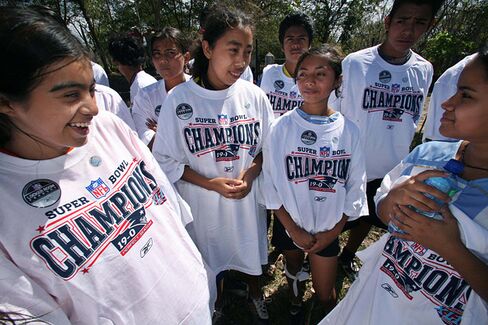 Nothing highlights the thrill of victory like tugging on a T-shirt proclaiming your status as Super Bowl champion—or the agony of defeat, if you're the losing team now holding pre-printed championship merchandise. While the San Francisco 49ers wound up on the wrong end of Sunday's game, losing to the Baltimore Ravens, the winner will be World Vision, a nonprofit relief organization that will receive more than 100,000 articles of clothing from the National Football League to donate to underdeveloped countries.
NFL rules state that all gear proclaiming the losing squad as Super Bowl victors, including T-shirts, sweatshirts, and ball caps, cannot be sold. For the first 30 Super Bowls, it had to be destroyed after the final whistle. In the 1990s, however, the NFL was approached by World Vision, an evangelical organization with a presence in more than 100 countries, which wanted to take the apparel to places where the outcome of an American football game was less important than keeping warm. So for the past 17 years, the loser's championship gear has been shipped off to areas World Vision deems to be in greatest need. After Super Bowl XLIV in 2010, children in earthquake-ravaged Haiti donned shirts celebrating the defeated Indianapolis Colts; in 2007, items celebrating the (not) champion Chicago Bears went to Romania and Chad.
The NFL pre-prints about 300 shirts and hats for both Super Bowl contenders to wear in the on-field celebrations immediately following the game. At the same time, sports retailers around the country will be unpacking gear emblazoned with the winning team's name, logo, mascot, and hometown, while shipping back apparel emblazoned with the sigil of the loser. Back at World Vision's international distribution center in Pittsburgh, it's sorted by size, gender, and destination. Sweatshirts go to cold places like Mongolia, T-shirts to warmer areas in sub-Saharan Africa.
World Vision has struck similar donation deals with Major League Baseball, the NBA, and the NHL, but the postseason NFL is the biggest generator of shirts by far. The league also gets a hefty tax deduction for the donated items, the number of which—depending on the size of the hometowns of the Super Bowl teams—can reach the hundreds of thousands.
And if you're a fan of the winning squad, forget about adding insult to injury. The NFL has a legal agreement stating that the shirts must never appear for sale online or be sold anywhere in the United States. For this bit of schadenfreude, you'll have to fly to Zambia.
Before it's here, it's on the Bloomberg Terminal.
LEARN MORE