Drexel: Where MBA Means 'Mighty Big Appetite'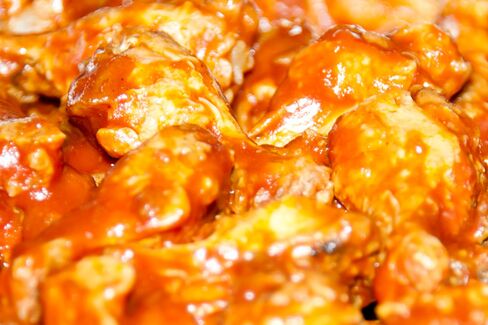 Who knew that earning an MBA was good preparation for a food-eating contest? Anthony "Wiz Kid" Wisniewski, a 2014 MBA candidate at Drexel University's LeBow College of Business, says he picked up persuasion skills at business school that helped him land a spot among the contestants in the 2013 SportsRadio WIP Wing Bowl at Philadelphia's Wells Fargo Center on Feb. 1. Unfortunately, it didn't help him win.
Wisniewski managed to devour nearly 80 wings in 14 minutes, but it wasn't enough to get him out of the first round, much less place him in the top 10. The winners ingested more than three wings for every one that passed his lips. "If I had made it into round two, I'm sure the adrenaline would have helped me to go further," he said after the competion. "I wasn't at capacity."
To win a chance to participate in the contest, Wisniewski had to perform a stunt to impress the judges at the radio station. His idea: devour an entire cow tongue in less than six minutes. "There were a lot of eaters who could eat faster than I can, so I had to give the radio station something it could not refuse," writes Wisniewski in an e-mail. "I thought of the nastiest thing I could eat and advertised to [the station] that I was a current Drexel MBA student and have been to the Wing Bowl before—four times, to be exact." He also noted that the boss he had during his LeBow co-op work experience was going to be in the entourage of a fellow contestant, who goes by the name "Elmer Fudd."
Contestants fought to the finish to eat the most chicken wings. The overall winner, Jamie "The Bear" McDonald, scarfed down 287 wings and took home $20,000, courtesy of Steven Singer Jewelers. The top local eater, Jon Squibb, dispatched 282 wings and won a 2013 Nissan Pathfinder SL from Montgomeryville Acura and Nissan. With 30-to-1 odds to win the local prize and no expectation of placing in the overall contest, Wisniewski was just happy to be part of the event, which entailed building a Drexel-inspired float with the fellow students in his group, he says.
"It has been a great experience training, float-building (bringing out my creative engineering side), and managing the sale of 50 tickets and T-shirts, which we had printed for the event," writes Wisniewski. It's probably not the kind of thing that will help him land a post-MBA job, but if he does land one, he'll be popular at the company picnic.
Join the discussion on the Bloomberg Businessweek Business School Forum, visit us on Facebook, and follow @BWbschools on Twitter.
Before it's here, it's on the Bloomberg Terminal.
LEARN MORE