What Google Searches About the Future Tell Us About the Present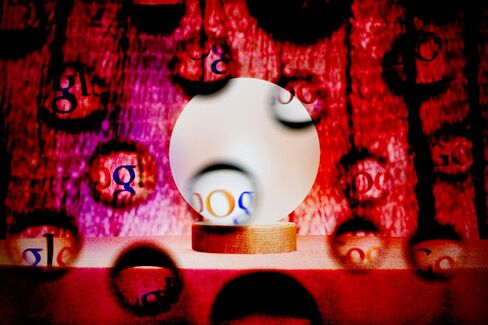 Google search data have become a statistical gold mine for academics, scientists, and number crunchers, who have used it for everything from predicting flu outbreaks to determining to what extent racial prejudice robbed Barack Obama of otherwise certain votes. Research published today demonstrates how searches about the future have a strong link to economic success.
Two academics in the U.K., Warwick Business School associate professor Tobias Preis and Dr. Helen Susannah Moat of University College London, analyzed more than 45 billion public Google searches performed during 2012 and calculated the ratio between searches that included "2013" and those that included "2011."
They found that countries where "Internet users … search for more information about the future tend to have a higher per-capita GDP," says Preis, who created a stir in 2010 when he used a similar data-crunching approach to quantify and model stock price fluctuations of companies on the Standard & Poor's 500 index. "The more a country is looking forward, the more successful economically the country is."
This makes sense. When the economy is humming along, it is easier to be optimistic—to plan vacations, buy season tickets, investigate investments, etc.
Of everyone, Germans are the most forward-looking, knocking Britons from the top spot. Preis explained that the U.K. scored so highly a year earlier because of the high anticipation around the Olympics. This year, the Germans are looking forward to a pivotal federal election. Preis, a German national, declined to say whether Germany's exuberance bodes well for incumbent Angela Merkel.
Interestingly, the U.S. ranks 11th, up from 15th a year earlier. The 2012 findings showed that entering an election year, more Americans were looking backward to 2010. This year, Americans as a whole are more optimistic about 2013 than they were a year earlier, Preis says.
Economic laggards Pakistan, Vietnam, and Kazakhstan round out the bottom of the list.
Before it's here, it's on the Bloomberg Terminal.
LEARN MORE