Egypt Clashes Near Palace Imperil Accord to End Violence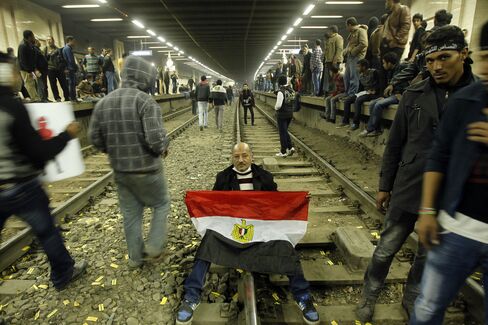 Feb. 3 (Bloomberg) -- Egypt's opposition ignored a call by the premier to keep protesters off the streets yesterday, saying it would hold more rallies and won't join a national dialogue amid the kind of violence that saw a man killed two days ago.
Demonstrators hurled Molotov cocktails and rocks at the walls of President Mohamed Mursi's palace late into the night of Feb. 1, a day after the opposition and Islamists signed an accord to denounce violence. Security forces fired tear gas and water cannons, and a 23-year-old man was killed, according to the Health Ministry. State-run Ahram Online said he died of gunshot wounds to the neck and chest.
Opposition charges of police brutality came after Mursi blamed the fighting on protest organizers, showing the gap that must still be bridged if an all-party accord to end violence is to work. The political tensions that have flared again since the second anniversary of the uprising against Hosni Mubarak on Jan. 25 have left more than 50 dead and undermined efforts to stabilize the country and revive its economy.
The National Salvation Front, the main opposition bloc, said yesterday it won't begin talks "before the bloodshed is stopped and accountability takes place," and its demands are met. Those include amendments to the constitution that was drafted by an Islamist-dominated panel and endorsed in a referendum, and a national unity government. The group said it "completely sides" with demands to end the "tyranny and the domination of the Muslim Brotherhood," and called for peaceful rallies nationwide.
'World Watching'
Earlier, Prime Minister Hisham Qandil toured the area and said further violent protests will hamper economic recovery and political opponents must collaborate to stop them. "No government will be able to run and manage the country amid these absurd scenes," he said in a televised address. "The world is watching how we are acting. We must live up to the responsibility."
Mursi has laid the blame on political groups that organized the rallies. The continuing protests in the capital and other cities called into question how much control the accord's signatories have over street activists increasingly calling for Mursi's ouster.
Al Hayat television showed footage of security forces near the palace dragging a near-naked man and beating him, fueling anger at what activists say are heavy-handed tactics similar to those common under Mubarak.
'Militia State'
Mursi's office condemned the protester's treatment in a statement yesterday and said it was awaiting results of the investigation into the incident.
Interior Minister Mohamed Ibrahim ordered an investigation, spokesman Hani Ibrahim said by e-mail. The minister warned that Egypt risks turning into a "state of militias" like some of its neighbors, and said a group of about 300 persisted in attacking the palace Feb. 1, with some firing birdshot at police, according to MENA.
At least 102 people were injured in Cairo and in similar clashes elsewhere in the country, the Health Ministry said, according to the official news agency.
Mursi's critics joined the Islamists in an accord signed in Cairo on Jan. 31 to denounce violence and hold talks on easing the tensions. Signatories included Mursi's Muslim Brotherhood, the National Salvation Front bloc, Salafist Islamists, Coptic Christians and youth activists.
The National Salvation Front said it had no connection with the Feb. 1 violence. It called for an investigation and urged security forces to act with restraint.
Citizens' Dignity
The head of the Muslim Brotherhood's Freedom and Justice Party, Saad el-Katatni, condemned on his Facebook page the attacks on the palace, as well as "human rights transgression and acts violating the dignity of the citizen."
The struggle between the Brotherhood and secularists concerned by its growing power has left the economy expanding at the slowest pace in two decades. Fitch Ratings pushed Egypt's debt deeper into junk status this week, while yields on benchmark dollar bonds climbed to a six-month high. The pound has slid almost 8 percent in the past five weeks.
Atef El-Baroudy, a 58-year-old who stood outside the palace complex yesterday to protest the treatment of the man who was beaten by police, said he can't work because of back and neck problems, and lives off a 300 Egyptian pounds ($45) monthly pension.
"Everything is getting more expensive. I eat plain bread so my children don't go hungry," he said. El-Baroudy said he voted for Mursi and is protesting to urge him to focus on improving people's lives, not to get rid of him.
"I take to the street for the sake of my girls, for them to live safely and enjoy freedom and dignity," he said. "I just want him to fear God and be a president for all Egyptians and not just for one group."
To contact the reporters on this story: Tarek El-Tablawy in Cairo at teltablawy@bloomberg.net; Mariam Fam in Cairo at mfam1@bloomberg.net.
To contact the editor responsible for this story: Andrew J. Barden at barden@bloomberg.net