A Digital Tip Jar and More Apps for New Orleans Crowds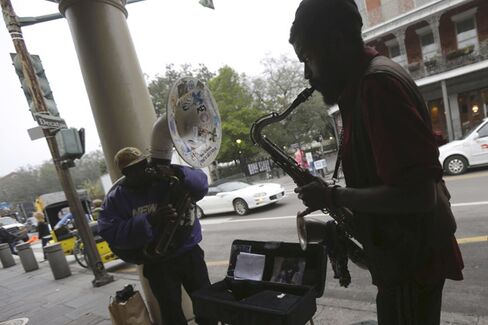 The crowds of football fans descending on New Orleans for the Super Bowl have a new way to thank the musicians whose tunes permeate the city: a digital tip jar. Performers who sign up for free get a QR code that fans can scan with smartphones to drop some real money into a virtual hat, via PayPal or credit card.
Digital Tip Jar is one of a half dozen apps New Orleans tech entrepreneurs cooked up during a hackathon three weeks ago designed to showcase the city's tech prowess while the country is watching. Other offerings include Gigs Guru to help people find live music and EatNowNOLA, designed to steer hungry football fans to restaurants with shorter lines.
The idea for the hackathon started when the Super Bowl host committee asked Travis Laurendine, a tech entrepreneur and New Orleans native, about an app that would show restaurant wait times to avoid the long lines diners in Indianapolis faced at last year's game. "Everybody went to the same 10 restaurants and a whole bunch of people were waiting out in the cold for two hours," Laurendine says. He had ideas for other apps and gathered 70 local programmers at donated office space downtown to crank them out one weekend in mid-January.
Laurendine has a post-game plan in store for visitors with deep pockets. He's gathering angel and venture investors Monday morning to hear pitches from 10 local startups before they fly out at an event he's dubbed Whale Tank, sponsored by the host committee. "There's more wealthy people who are going to be in New Orleans for the Super Bowl than at any other time in New Orleans' history," Laurendine says. "The next time they come to New Orleans, it can be to check on their investment."
Before it's here, it's on the Bloomberg Terminal.
LEARN MORE