While Facebook Pivots to Mobile, Investors Remain Jittery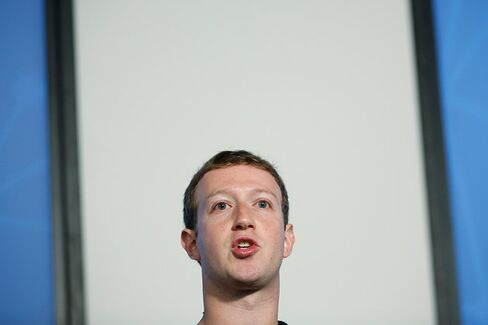 At the end of last year, Facebook officially became a mobile company, not a desktop one. For the first time in its history, the number of active daily users accessing the service on a mobile device exceeded the number that were checking the social network from their desktop computers. That's a momentous shift—the company's most avid users now view it primarily as a tool for their iPhones and Android phones. "Today there is no argument: Facebook is a mobile company," Mark Zuckerberg said on a conference call Wednesday with analysts.
As its fourth-quarter earnings report revealed on Wednesday, it's also a shift the company is still trying to adjust to. Advertising on smartphones made up 23 percent of Facebook revenue in the final three months of last year, up from 14 percent in the third quarter. Facebook has been trying to accelerate the transition ever since its disastrous IPO last May, when shareholders slapped the company for underestimating this foundational shift. Over the last few months, Facebook has recovered some ground and overall its earnings report was good. The company reported earnings of 17 cents per share on $1.58 billion in sales in its fourth quarter, handily beating analyst estimates of 15 cents per share on $1.52 billion in revenue. A whopping 1.06 billion people used the service every month by the end of the year, up 25 percent from a year earlier.
Investors were initially spooked by contraction in the company's operating margin and decline in net income, as spending on R&D and product development grew. (On a GAAP basis, net income fell 79 percent year-over-year, to $64 million.) Facebook's stock is down slightly in after-hours trading, after making up most of the ground it lost in the initial reaction to the report.
Since last fall, Facebook has sold ads on its own mobile applications to other mobile developers. These developers use the ads to promote their own apps and to get users to install them on their phones. Facebook also sells ads in its members' news feeds, and those ads appear on both the Web and in its mobile apps. On the conference call, Zuckerberg said the company was working to get better at targeting users with mobile ads tailored to their interests and activities. In her prepared remarks on the conference call, Chief Operating Officer Sheryl Sandberg argued that the company is well positioned in mobile advertising, since it knows precisely who its customers are and what they like.
Facebook is now clearly focused on making money and justifying the promise of all that hype last year, when the company's own investment bankers valued the firm at $100 billion. (Today's closing valuation: $67.7 billion.) Last year the company rolled out Facebook Gifts, an e-commerce tool that allows users to easily give gifts like wine and gift baskets to friends. Earlier this month, it also announced Graph Search, a fledgling effort to let members navigate their friends' interests and reviews of movies, books, restaurants, and the like. That potentially positions Facebook to carve out a chunk of Google's profitable search franchise, and some analysts believe it might amount to a quarter of Facebook's revenue by 2015. Analysts were clearly looking for Zuckerberg to shed more light on monetization opportunities for Graph Search but he demurred, saying the focus was first on developing a strong product offering. Yet Zuckerberg is clearly thinking big. He said Graph Search could allow Facebook to create a new generation of social services in markets like recruiting and restaurant reviews, whose current leaders do not have the luxury of knowing their users' real identity and preferences. Translation: Watch out, LinkedIn, Yelp, and other startups.
One of Facebook's biggest future opportunities will likely come with syndicating its advertising network to other sites and mobile applications (so, for instance, a Facebook advertisement suggesting that your friend "liked" a brand might appear on another site or app). The company tested this capability last year with advertisements on third-party mobile apps, but stopped after a few months. The executives didn't shed much additional light on their future plans, but this is likely coming, too.
Concluding his prepared remarks on the call, Zuckerberg warned that in 2013, expenses will likely grow faster than revenue, depressing profit. "We are doing what we think will build a great business and service for the long term," he said.
Before it's here, it's on the Bloomberg Terminal.
LEARN MORE