Shanghai Has a Smog Problem, Too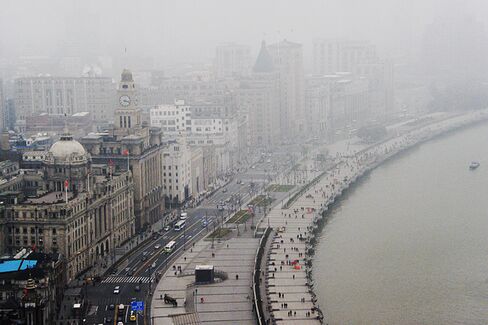 With a further day of smog choking Beijing, there's very little multinational companies can do to reassure employees who are worried about air pollution. So let's at least credit Toyota for trying. The Japanese automaker has put more green plants in its Beijing office to help improve the quality of the air, Toyota spokesman Liu Peng told Bloomberg News on Jan. 30. While the company places its bets on potted plants, JP Morgan, Honda, and others are distributing face masks to workers.
The most fortunate Beijing residents have the option of leaving. But to where? Shanghai boosters might feel some perverse pleasure in the woes of its longtime rival, but China's Second City doesn't have much better luck when it comes to clean air. As the official China Daily newspaper reported on Jan. 29, "residents living in the Yangtze River Delta breathed the most polluted air in five years during the past two weeks."
Sure enough, Shanghai's level of fine particulate matter under 2.5 microns registered a hazardous 267 on Wednesday. (A good day, for sake of comparison, would range from 51 to 100.)
The situation is dangerous, but at least the city's bureaucrats have found a way to make their air-pollution problem cute. The website for the government's Shanghai Environmental Monitoring Center has introduced a new way to let the public know about air pollution in the city: An anime-style cartoon of a girl in pigtails smiles when the air quality is excellent, pouts when pollution is moderate, and sobs when the smog is very serious.
As Steve Levenstein writes at InventorSpot.com, "the mascot reflects worsening pollution readings by progressively appearing sadder as her hair changes color from green to yellow to orange to red to purple and, finally, brown denoting 'serious pollution' at levels of 301 to 500. By this point the poor little girl is bawling like a stuck pig, eyes clenched shut against the stinging smog smothering Shanghai."
Is there any reason to be optimistic? Hard to believe at a time like this, but the Chinese government is actually way ahead of the United States in some environmental policies. Beijing, Shanghai, and five other major manufacturing areas in China this year will launch pilot programs to cut carbon emissions. By 2015, according to Bloomberg New Energy Finance, this program will regulate up to 1 billion tons of emissions, making China home to the world's second-biggest cap-and-trade program, behind only Europe.
Before it's here, it's on the Bloomberg Terminal.
LEARN MORE