Harvard-Bound: NFL Union Chief Domonique Foxworth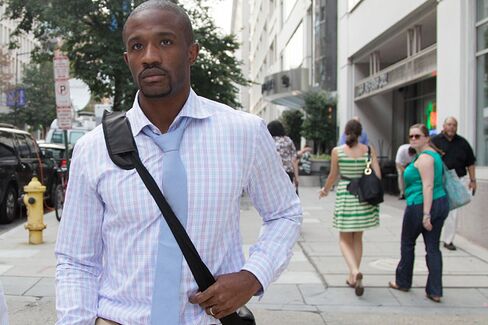 Harvard Business School has more in common with capital than labor. It is, after all, the school that launched thousands of executive ships, including those of Jamie Dimon at JPMorgan Chase, Jeffrey Immelt at General Electric, and Meg Whitman at Hewlett-Packard. But when the world's capitalists-in-waiting convene at the B-school mecca in September, they'll have a "traitor" in their midst: Domonique Foxworth, the president of the NFL Players Association and former cornerback for the Baltimore Ravens.
Bloomberg News reported today that Foxworth, 29, has been accepted at Harvard and has spent the past year preparing by taking classes at Loyola University Maryland in economics, statistics, and operations. He says he was planning to attend business school when he announced his retirement in May, two months after the Ravens released him.
Foxworth was a third-round pick in the 2005 NFL draft and played for the Denver Broncos and Atlanta Falcons before signing a four-year, $28 million deal with the Ravens in 2009. He missed the entire 2010 season due to a torn ACL and played only two games in 2011 before being placed on the injured reserve list.
He's one year into a two-year term as players' union president, which means that when September rolls around he'll have to juggle B-school and the demands of a full-time job for about six months. Probably pretty good training for whatever awaits Foxworth on the other side of Harvard.
Join the discussion on the Bloomberg Businessweek Business School Forum, visit us on Facebook, and follow @BWbschools on Twitter.
Before it's here, it's on the Bloomberg Terminal.
LEARN MORE