U.K. Economy Shrinks More Than Forecast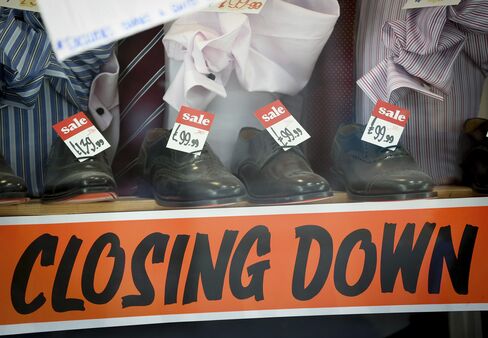 Jan. 25 (Bloomberg) -- Britain's economy shrank more than forecast in the fourth quarter as the boost from the Olympic Games unwound and oil and gas output plunged, leaving the country on the brink of an unprecedented triple-dip recession.
Gross domestic product dropped 0.3 percent from the three months through September, when it grew 0.9 percent, the Office for National Statistics said today in London. That compares with the median of 38 estimates in a Bloomberg News survey for a decline of 0.1 percent.
The pound fell as the drop highlighted the challenge Prime Minister David Cameron's government faces to secure momentum in the economy more than three years after it emerged from the deepest recession since World War II. While jobless benefit claims have fallen to a 1 1/2-year low, a budget-deficit squeeze may keep weighing on growth while heavy snow this month has raised the possibility of a further quarterly contraction.
"One-time factors are playing a part, but nonetheless the GDP number is extremely disappointing," said Philip Shaw, an economist at Investec Securities in London. "The talk around the U.K. economy is now all going to be about, are we in a triple dip, which is not great for confidence. If we continue to see weak data, more stimulus becomes a possibility."
The pound fell as much as 0.3 percent against the dollar before recovering and was trading up 0.1 percent at $1.5804 as of 12:37 p.m. in London. It fell against the euro to the lowest in more than a year and was down 0.5 percent at 85.14 pence per euro. The yield on 10-year gilts rose 4 basis points today to 2.05 percent.
German Optimism
The U.K. report contrasted with optimism from Germany, where business confidence rose more than economists forecast in January. The Ifo institute's business climate index, based on a survey of 7,000 executives, climbed to 104.2 from 102.4 in December. That's the highest since June and the third straight gain. Economists predicted an increase to 103, according to the median of 41 forecasts in a Bloomberg News survey.
European Central Bank President Mario Draghi said today that while conditions on financial markets have improved considerably, policy makers are still waiting for signs that the euro-region economy has turned for the better.
"The jury is still out," he told an audience at the World Economic Forum in Davos, Switzerland. "We haven't seen an equal momentum on the real side of the economy."
U.K. services, which make up about three quarters of the economy, were unchanged in the fourth quarter from the previous three months, with government spending on services falling 0.7 percent, the most since the second quarter of 2008.
Olympic Aftermath
The statistics office said there was also some evidence of "fall back" following the Olympic Games in the third quarter, hitting sales at hotels and restaurants. Industrial production fell 1.8 percent, while manufacturing dropped 1.5 percent. Construction output rose 0.3 percent.
Output was also hit by the maintenance shutdown of the Buzzard oilfield, the largest in the North Sea. The ONS estimated that mining and quarrying, which plunged by a record 10.2 percent in the fourth quarter, took 0.18 percentage points off GDP. Excluding oil and gas extraction, the economy shrank 0.1 percent.
From a year earlier, GDP was unchanged in the fourth quarter, the ONS said. It was also unchanged in 2012 as a whole, compared with 0.9 percent growth in 2011.
In a statement, the U.K. Treasury said the figures reflect the fact that "Britain, like many European countries, faces a very difficult economic situation." Still, the economy is "healing," it said, pointing to labor-market figures this week showing employment rose to a record level last year.
Partial Recovery
The U.K. has recovered only half of the economic output lost during the 2008-2009 recession as inflation outpaces incomes, government spending cuts bite and the euro-region crisis saps demand in the biggest market for British goods.
While the U.S., German and Canadian economies are back above their pre-recession levels, U.K. GDP was 3.3 percent below in the fourth quarter -- only Italy is further behind among Group of Seven nations. It means Britain remains mired in its longest peacetime slump of any since 1920, according to the National Institute of Economic and Social Research.
The lack of growth is making it harder for Chancellor of the Exchequer George Osborne to cut the budget deficit as corporate profits and the taxes they generate come under pressure. The economy has grown just 0.5 percent since Cameron's coalition took office in May 2010.
'Hard Work'
Speaking after today's data, Osborne said the problems in the British economy are deeply entrenched and it will take "hard work and perseverance" to bring a lasting recovery.
"These problems were many years in the making and there's no magic solution," Osborne told broadcasters today at the World Economic Forum. "The British people understand there's no overnight solution."
Supermarkets such as J Sainsbury Plc are struggling to boost growth as cash-strapped Britons make fewer shopping trips and substitute branded products for cheaper own-label versions. Marks & Spencer Group Plc, the biggest U.K. clothing retailer, said this month that pressure on consumers' incomes will probably continue in 2013 and it is "cautious" on the outlook.
Today's data is an initial estimate and the figures are subject to revision when the ONS gets more information.
Britain is the first G-7 nation to report GDP data for the fourth quarter. U.S. growth probably slowed to a 1.5 percent annual rate from 3.1 percent in the third quarter, according to a survey of economists published on Jan. 10. The Commerce Department will publish the data on Jan. 30. The European Union's statistics office will publish figures for the 17-nation euro area on Feb. 14.
'Zig-Zag Pattern'
Snow and freezing temperatures that gripped the U.K. this month disrupted travel and construction work and kept consumers out of the shops, threatening to add to the one-time factors that have led to what Bank of England Governor Mervyn King says has been a "zig-zag pattern" of output. Excluding one-time factors, London-based Niesr says underlying growth is "flat."
"Against headwinds, the underlying performance of the economy is doing OK," said Alan Clarke, an economist at Scotiabank in London. Still, "it's a pretty damning state of affairs if an outage at an oil rig or a bit of snow makes the difference between a negative and positive GDP result."
Economists commonly define a recession as two consecutive quarters of declining economic output and a contraction in the fourth and first quarters would be the third slump since GDP reached its peak at the start of 2008.
Bond Buying
The Bank of England's Monetary Policy Committee will have new economic and inflation forecasts at its meeting next month. It paused its bond-buying program in November at 375 billion pounds ($591 billion) and voted to maintain that target at this month's meeting. King has said policy makers will provide more stimulus if needed.
Elsewhere today, Japan's consumer prices fell for the seventh time in eight months, underscoring the risk that the central bank may struggle to reach a 2 percent inflation target unless it implements new easing measures earlier than planned. Singapore's industrial production fell for the fourth time in five months.
In the U.S., new-home sales probably picked up in December, economists forecast before a Commerce Department report.
To contact the reporter on this story: Scott Hamilton in London at shamilton8@bloomberg.net
To contact the editor responsible for this story: Craig Stirling at cstirling1@bloomberg.net