How Canada Plans to Steal Silicon Valley's Immigrant Entrepreneurs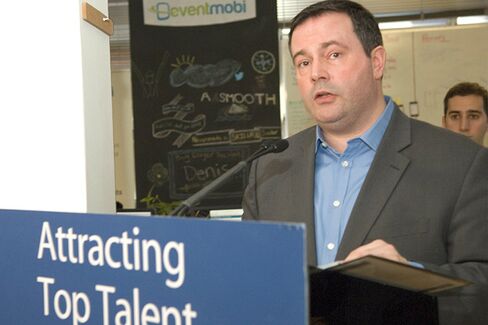 Startup hot spots, circle your wagons: The Canadians want to poach your immigrant entrepreneurs who can't get permanent residency. That stalled Startup Visa that U.S. entrepreneurs and investors have been lobbying for, good luck with that, you can imagine the Canadians saying as they head south to woo founders.
For readers unfamiliar with the U.S. Startup Visa, it's proposed legislation to allow an immigrant entrepreneur to receive a two-year visa if a qualified U.S. investor is willing to invest in the immigrant's venture. The legislation doesn't create new visas; it takes existing ones from an old, underused program that essentially lets wealthy foreigners buy permanent resident status in the U.S.
Canada's Citizenship and Immigration Minister, Jason Kenney, sketched out on Jan. 24 a new startup visa program that grants permanent residency to foreign entrepreneurs who persuade Canadian venture capitalists, angels, or business incubators to back them. The mechanics of Canada's new program are still fuzzy, but applicants will have to obtain investors' support before they can apply for the visa. They'll also have to meet criteria, set to be published this spring, regarding language proficiency and educational qualifications.
"When this thing gets launched, I plan to go down to Silicon Valley with some of the industry associations here and fly the Canadian flag," the Financial Post quoted Kenney as saying at a Toronto press conference. The goal is to woo "bright young prospective immigrants, some of whom are going to create massively successful companies in their lifetime" he said, noting they will receive immediate, not conditional, permanent resident status.
The program, which will be launched on April 1, is a pilot with an initial annual allotment of 2,750 visas for entrepreneurs and their families. It replaces Canada's existing visa for entrepreneurs, which "didn't require the investors to invest in innovative enterprises but enabled them to limit investment to smaller, safer ones—the antithesis of entrepreneurship," a backgrounder on Citizenship and Immigration Canada's website explained.
Before it's here, it's on the Bloomberg Terminal.
LEARN MORE