Merkel Says Japanese Yen, Euro-Area Liquidity Are Concerns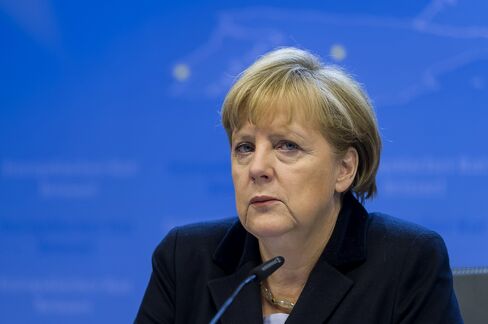 German Chancellor Angela Merkel said the Japanese government's call for monetary easing and central-bank cash that's been unleashed to stem Europe's debt crisis constitute risks to the global economic recovery.
"I can't say I'm completely free of worry when I look at Japan right now," Merkel said today during the World Economic Forum in Davos, Switzerland, when asked if she is concerned about countries' using exchange-rate manipulation to win global market share. China, meanwhile, has "responded quite a bit" to pressure from other Group of 20 nations to shift its exchange-rate policy, she said.
Merkel added her voice to German officials including Finance Minister Wolfgang Schaeuble who have challenged Japan for trying to devalue the yen to spur the world's third-largest economy. Prime Minister Shinzo Abe, sworn in on Dec. 26, has called on the Bank of Japan to carry out unlimited monetary easing and accept a higher central bank inflation target to boost exports by pushing the yen lower against competitors.
In the euro-area, the "large amount of liquidity" pumped into the financial system last year, particularly to help banks, has to be "mopped up again," Merkel said during a question-and-answer session at Davos.
The euro area must use the lull in the three-year-old debt crisis and avoid becoming dependent on the European Central Bank to cover for policy makers, she said. While the ECB has gone "to the limits of its own mandate" to defend the euro, it can only serve as a stopgap as countries across Europe tackle economic overhauls to become more competitive.
Cameron Concerns
Reaching out to the U.K., Merkel said she shares Prime Minister David Cameron's concern that the European Union has been slow to improve competitiveness. She endorsed Cameron's push, featured in his speech at Davos earlier in the day, for a U.S.-EU free-trade agreement.
Europe must use 2013 to concentrate on bolstering competitiveness, with the aim to produce goods across the region that the rest of the world wants to buy, Merkel said in her speech. She called for a European "competitiveness pact" setting out commitments by national governments, to follow steps already taken toward banking union and a fiscal compact.
Germany's experience with reducing labor costs and similar measures show that they take as many as four years to reach full effect, she said. "Overall, competitiveness is a central issue for Europe's future prosperity," Merkel said.
Cameron called for a leaner EU "relentlessly focused on helping its member countries compete" in a speech in London yesterday that also unveiled his plan to seek a U.K. referendum on EU membership. In Davos today, Merkel said that while EU countries have boosted competitiveness, "we haven't reached a stage yet where we can sound the all-clear."
"Really, my message is that the investment climate in Europe has improved," Merkel said before leaving the stage.
Before it's here, it's on the Bloomberg Terminal.
LEARN MORE