Jeanne Gang and the Greening of Chicago
Jeanne Gang and the greening of Chicago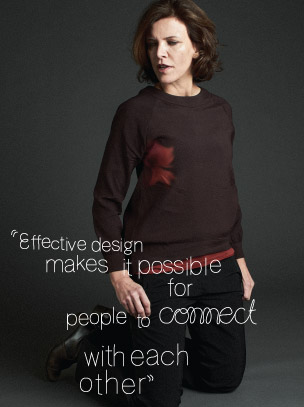 Studio Gang Architects—run by Jeanne Gang, 48, and her husband, Mark Schendel—moved into the gritty Chicago neighborhood of Wicker Park in 2002. Initially, they shared their floor, above an Aldo shoe store, with a personal injury lawyer, a communist bookstore, and a poetry group. As these neighbors moved on and Gang's reputation grew—she won a MacArthur Fellow "genius" grant in 2011—Studio Gang took over. Inside, research specimens line several of the orderly studio's walls and windowsills: mushrooms, rocks, bent baseball cards, and various samples of wood. "A lot of the stuff we do involves testing materials or making big, giant mock-ups," says Gang, who is slim with light gray eyes, a wavy chestnut bob, and an uninhibited laugh. "There's a lot of craftsmen out here, people who fabricate things for us. It's almost like a whole ecology."
Among Gang's intentions is to invite a "more wild version" of nature into cities, using what she refers to as "green infrastructure" to support and enhance urban landscapes. "Nature as we see it in cities is created, it's man-made, it's redesigned in a certain sense," says Gang. "I think it's important not for romantic reasons, but for practical and experiential reasons, to extend biodiversity within the ecosystem."
This fall, Chicago broke ground on Gang's biggest designed wilderness to date: Northerly Island. The plan, devised by Gang in collaboration with the landscape architecture firm SmithGroupJJR, fashions a public park out of Meigs Field, a former airport on a 91-acre man-made peninsula just off the southern tip of downtown Chicago. There will be beaches, woodlands, wetlands, and a prairie region. An archipelago of islands and reefs will be constructed to protect the peninsula from Lake Michigan's waves. The arc will enclose a half-mile-long harbor perfect for fish as well as for divers and kayakers.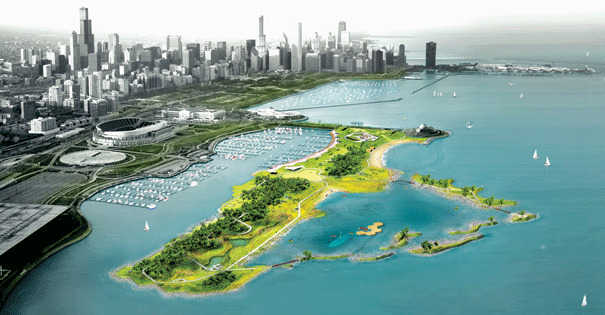 In forging the plan, Gang assessed every aspect of the peninsula, including soil quality, topography, bird migration, and the changing climate. Debra Mitchell, senior vice president of SmithGroupJJR, says the final plan succeeded because of Gang's ethos. "She's less about 'I am the style, and you must have the style whether it works or not,' than 'I want my building or my landscape to function as intended,' " says Mitchell. "It's very unusual for an architect."
The economic impact of well-designed green space is substantial. Chicago's Millennium Park, for example, formerly an industrial wasteland close to Northerly, attracts 5 million visitors annually, yielding $78 million in tax revenue, according to SmithGroupJJR and the Landscape Architecture Foundation. The park's completion will fuel an estimated $1.4 billion worth of nearby projected residential development by 2015. "If you follow the story of these major, signature urban parks and you look at the real estate benefits of the surrounding area—phenomenal," says Mitchell.
Not all of Gang's ideas for Northerly Island went over with the public. One early plan, which involved reshaping the peninsula to spell out the word "Chicago" so it would be visible to airplanes, was panned by architecture critic Blair Kamin, who wrote in the Chicago Tribune that it took "the desire to create an iconic design to a ridiculous extreme."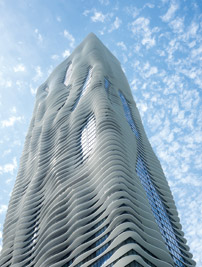 Gang didn't mind abandoning her "Chicago" model in favor of the current plan. Still, she insists, "you get these purists who think it should look natural, but it's not natural." Without human guidance, she adds, damaged sites can take hundreds of years to flourish. "If you let the field be just weeds, you get species that take over the entire thing," she says. "And they might not be ones that support animals that are coming in. You have to have knowledge to make it work."
Gang's most famous project, the Aqua skyscraper, began with a chance encounter. In 2004, at a Harvard alumni function, Gang chatted with a developer who had built several condominium towers in Illinois. He liked Gang and, despite her lack of experience, commissioned her to design a skyscraper in downtown Chicago. The result is an 82-story apartment tower that, because of its irregular, undulating balconies, looks draped in fluttering fabric. In 2009 the tower, which has been 98 percent occupied since its opening, won the Emporis Skyscraper Award as best of the year. Aqua is also the highest building in the world designed by a woman. "I hope that record is shattered in short order," says Gang, "and I think it will be. … It's only 82 stories."
Aqua fits Gang's goal of creating compact, vertical, green cities and strengthening communities. Her plan for Chicago's Lincoln Park Zoo pavilion and its surrounding environment entailed redoing a pond to better drain and hold storm water while also supporting ecological diversity and attracting such wild animals as herons and coyotes. Gang's SOS Children's Villages, a light-filled community center on Chicago's South Side, is made from striated mixtures of concrete intended to highlight the many donations that funded the project. Her design for the Arcus Center for Social Justice Leadership at Kalamazoo College revives an old technique called "wood masonry," which involves using wood as bricks to create low-carbon, highly insulating walls.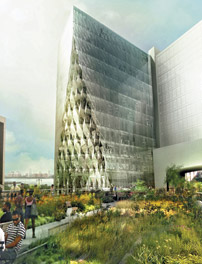 Gang's future projects include a commercial tower that, pending approval, would flank New York's High Line, the elevated park built on a defunct freight train line on Manhattan's West Side. The gem-like glass building would cut away from the street at an angle so that 200 extra hours of direct sunlight would hit the High Line each year.
Detecting a signature style is made difficult by the range of Gang's projects, although one unifying theme is the pursuit of a structure that "has fragility but is superstrong." In general, she lets each design evolve out of exhaustive research and experimentation. She's been using the $500,000 MacArthur grant mainly to do more research and publish books. These include Reverse Effect: Renewing Chicago's Waterways, which calls for a barrier between the Great Lakes and Mississippi watersheds to keep Asian carp from entering Lake Michigan.
Gang's love of structures and wilderness began in childhood. Born and raised in Belvidere, Ill., Gang is the third of four sisters. For vacations, her father, a civil engineer, would pack the family into a Pontiac Grand Safari and drive across the country to visit bridges. Her sisters weren't wild about the trips, but Gang loved them. "Some of the bridges were superlong or really amazing, but what really excited me was, I think, the landscapes in between," she says. "Just driving and driving and driving in this big country, and seeing the West and the South and the North, it's really ingrained in my mind." Gang's ever-growing rock collection, early evidence of her obsession with natural materials, also dates to those trips. "There were so many different kinds of rocks," she says. "I had to take one from every place. My dad would be like, 'What's in this suitcase?' "
In high school, Gang considered becoming an engineer or a painter, but ultimately decided architecture best merged her cultural, social, design, and math interests. "You feel like you're part of defining who we are as people," she says. After finishing at Harvard's Graduate School of Design in 1993, she worked in Lille, France, for Rem Koolhaas, the Dutch architect and Pritzker Prize winner. It was there she met Schendel, who joined Studio Gang a year after Gang founded it in 1997. "He's kind of the business side, and she's the idea side," says Mitchell of SmithGroupJJR. "He protects her so that she doesn't have to worry about any of that."
These days, Studio Gang is collaborating with the Army Corps of Engineers as they begin shifting soil on Northerly to sculpt hills and valleys. Gang returns each month anyway, to walk the windswept terrain. "Every time it's slightly different," she says. "Different birds, migrations, behaviors, nests." The peninsula, she jokes, is becoming a perfect example of green infrastructure: Rather than a private downtown airstrip for the 1 Percent, it's now a runway for birds.
Before it's here, it's on the Bloomberg Terminal.
LEARN MORE