Japan's Bond Investors Like to Buy Foreign
Brazil was a favorite, now it's Turkey's turn. High yields matter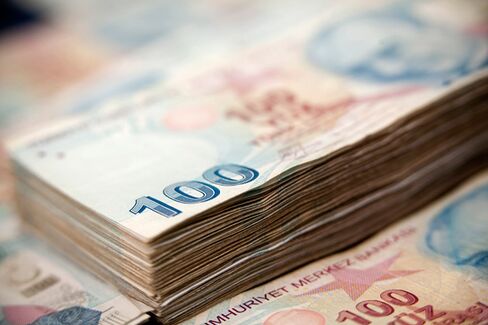 Last year the Turkish central bank successfully tamped down rising inflation by boosting interest rates and letting the lira appreciate 6 percent against the dollar. The government of Brazil in contrast worked to slow the foreign money lured to the country by the stronger real and the high yield on government debt. The real's value dropped 11 percent and the inflow of foreign money eased.
Closely watching these developments were investors half a world away: Japanese bond buyers in the uridashi market. Uridashi bonds are sold to Japanese investors in the national currency of the issuer. That market totaled $19.5 billion in 2012, compared with $21.8 billion a year earlier, according to data compiled by Bloomberg. Trades that involve borrowing in Japan, with its low interest rates, and then investing the proceeds in economies with higher interest rates have long been popular. Japanese 10-year government bonds yield only 0.81 percent, the second-lowest in the world after Switzerland. A Japanese investor using this strategy is sometimes called a "Mrs. Watanabe," a reference to the housewives who control family budgets and play a part in the uridashi market.
Mrs. Watanabe was a big fan of Brazil, but she has switched her affections to Turkey. In the uridashi market, Turkish lira bonds sold to individual Japanese investors exceeded those from all other emerging markets last year. The value of uridashi bonds issued in liras jumped 72 percent in 2012 to $3.7 billion, second only to Australian-dollar uridashi bonds, which had a value of $6.7 billion, according to data compiled by Bloomberg. The value of uridashi bonds denominated in the Brazilian real dropped 27 percent last year, to $3.05 billion.
On average, Turkish lira bonds yielded about the same as Brazilian bonds over the last year: 8.5 percent for Brazilian two-years, vs. 8.0 percent for Turkey's two-year bonds. Yet Japanese investors fare better with Turkish bonds since the Brazilian government, intent on keeping its currency down, taxes any foreigner who invests in Brazilian debt. "Turkey has given investors an opportunity to diversify away from Latin America," says Mariya Gancheva, an emerging-markets strategist at Mitsubishi UFJ Securities International. The Brazilian taxes on foregn bond investors, combined with regulatory changes and fears the real would tumble, were "enough for Japan investors to get a bit nervous," Win Thin, global head of emerging-markets strategy at Brown Brothers Harriman, says in an e-mail. "New money is going elsewhere, like Turkey."
Investors who borrowed in yen and bought Turkish lira bonds earned a 30 percent return last year: They profited from generous bond yields and got an extra boost from the lira's 20 percent appreciation against the yen. That's the best performance in emerging markets after the Polish zloty and the Hungarian forint, according to data compiled by Bloomberg. Investors who borrowed in yen and invested in Brazilian uridashi debt gained 9.8 percent.
One question is how long Turkish bonds will remain popular with the Japanese as yields decline. The Turkish central bank cut the average cost of funding for lenders to 5.5 percent on Dec. 25 from 11.9 percent on Jan. 6, 2012, as economic growth slowed to 1.6 percent in the third quarter, the lowest level since a 2009 recession. Turkish policymakers lowered the benchmark repurchase rate in December by 25 basis points, to a record low of 5.5 percent. Yet Fitch Ratings raised Turkey's foreign-currency ranking by one level to BBB- on Nov. 5, citing an easing in economic risk and lower debt levels. The country's first investment grade in 18 years "has given a lot of confidence to the market," Mitsubishi UFJ's Gancheva says. Mrs. Watanabe may keep buying Turkish bonds for a while longer.
Before it's here, it's on the Bloomberg Terminal.
LEARN MORE