In Vegas, MBAs in Search of a Career Jackpot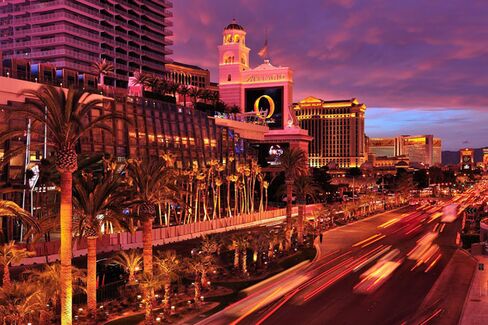 MBAs who have an affinity for poker got to indulge that passion last weekend at the Planet Hollywood casino in Las Vegas, where several hundred students showed up for Caesars Entertainment's annual MBA Poker Championship. The tournament serves as the main MBA recruiting event for Caesars and produces roughly half the company's new MBA hires.
"We have competition for this talent from consulting firms and investment banks," says Paul King, Caesars' corporate director of talent. "This is our opportunity to talk about the gaming space." King adds that the company hires about 12 MBA interns and 12 full-time employees each year and has used the championship since 2006 to snag graduates from the University of Chicago's Booth School of Business, Duke's Fuqua School of Business, the Harvard Business School, MIT's Sloan School of Management, Northwestern University's Kellogg School of Management, UCLA's Anderson School of Management, the USC's Marshall School of Business, and Vanderbilt University's Owen Graduate School of Management .
The first day of the tournament had an $85 buy-in and a dinner menu featuring seared lamb lollipops as well as pumpkin and fontina fried mac and cheese. Day Two included a networking brunch and a $225 buy-in. The weekend ended with a series of invitation-only interview sessions. Students taking part in the event pay their own way. Jeff Lewis from the University of California at San Diego's Rady School of Management, and George Orn and Philip Shing, both from Carnegie Mellon's Tepper School of Business, were the tournament winners.
Caesars has deftly snuck its name as a potential employer into the minds of a large contingent of students. The University of Pennsylvania's Wharton School, Booth, Tepper, and the University of North Carolina's Kenan-Flager Business School have all established poker clubs.
Such clubs are organized with the rigor one might expect from a selective program. Wharton's club has about 100 members, including three co-presidents, a gaming director, a tournaments director, and a head of finance. It holds games every other week and organizes tournaments twice a semester. King says the Booth students hold an annual ski trip, which Caesars has sponsored in the past by providing company-branded playing tables and decks of cards.
Business school clubs serve as a way for students to get low-risk leadership experience. But for some, the main benefit of joining such groups is respite from a hectic schedule. "At business school it's so easy to get caught up in recruiting, academics, and networking," says Wharton '13 poker club member James Tanabe, who has a job lined up after graduation and attended this year's championship partly to visit friends.
"If you look at a poker game, you're basically sitting down with 10 people eating pizza and talking for four to five hours," he says. "It's a relaxing period of time throughout a frenetic experience."
Join the discussion on the Bloomberg Businessweek Business School Forum, visit us on Facebook, and follow @BWbschools on Twitter.
Before it's here, it's on the Bloomberg Terminal.
LEARN MORE