Daniel Guigui and Andrew Payne's Water-Repellent Down
Guigui and Payne produced the first water-repellent down, DownTek, which will still keep you warm when wet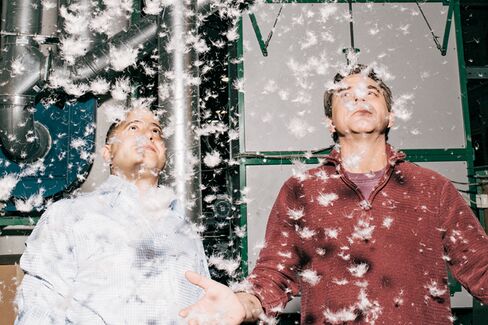 Was it a long process, figuring out how to make this stuff?
Guigui: A [water-resistant] down has long been the holy grail—I think if you talk to most outdoors enthusiasts, down is the preferred insulation, except when it's wet, and it takes a long time to dry. Everyone's been playing with processes, treatments, chemicals. We'd been playing with that stuff for five years, and we finally found something that worked.
How do you apply the treatment to the thin strands of a feather without making them stick together?
Guigui: Well, it's difficult. [If we tell you how] it wouldn't mean very much to you, but it would mean a lot to a feather-and-down processor. Let's say this: There have been several different methods of applying treatments. In the wash, in the dryer, airborne. We'll say this is an airborne process.
Did you run into any roadblocks?
Guigui: After we hit on the right treatment, it still took 18 months to go from the lab to production. The treatment worked, we could do it in a lab setting, but it wasn't cost-efficient: It took too much time, too much material. [The issue] was developing the equipment to get it to bulk size and as cost- and time-efficiently as we needed it to be.
How did you crack the code?
Guigui: We were approached by a company out of Belgium in 2010 with a nanotechnology treatment. We were skeptical but also unwilling to not try something new. Sure enough, it worked. That's when we knew that we had something special.
Are you outdoors guys? Do you wear the product?
Guigui: We are. And I hate to admit it, but I don't have a product yet. L.L. Bean sold out in three weeks!
Payne: We couldn't get an additional sample—they all went to the press. But we're going to make a couple of calls.
Before it's here, it's on the Bloomberg Terminal.
LEARN MORE