Boeing CEO's Task: Get the Dreamliner Airborne Again
Boeing's James McNerney has to get the company's 787 Dreamliner airborne again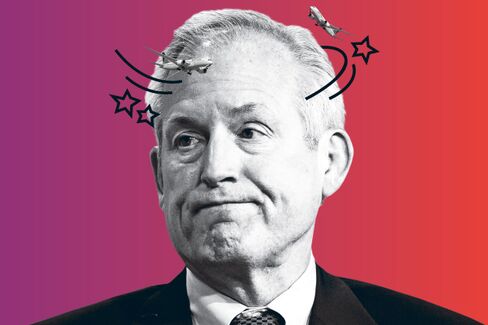 There are chief executives who like to project themselves as visionaries intent on devising grand strategies to transform their companies. That's not the case for Boeing CEO James McNerney, who inherited a game plan set years before he was recruited to lead the aerospace giant in 2005. Boeing had by then committed billions of dollars to building the 787 Dreamliner, a lightweight, all-composite plane that promised to leapfrog rivals technologically and help airlines reduce their soaring fuel bills by as much as 20 percent. Carriers have become enamored by the prospect: About eight hundred 787s are on order, worth about $175 billion in sales, based on the plane's list price.
The Boeing board tapped McNerney for the top job because the former General Electric executive had earned a reputation for deftly managing costs and complicated production regimens. His assignment was to turn the Dreamliner from a previous regime's vision into a profitable reality. "The thing the company has to get right is the 787," McNerney said in 2006, months after his arrival. "Executing that program is our biggest opportunity and our biggest risk if we don't do it well."
As it turned out, McNerney's time in the cockpit has been anything but a smooth ride. While the huge book of 787 orders confirms the wisdom of Boeing's strategy, building the complex plane has been a nightmare for its CEO—in no small part because of decisions made prior to his arrival. The aircraft suffered seven manufacturing delays from 2007 to 2011, postponing its launch. A big reason: McNerney's predecessors decided to rely on a web of suppliers around the world to design and build up to 65 percent of the 787. That saved money, but gave McNerney less control over the complex puzzle that is modern aircraft manufacturing.
Boeing finally began deliveries in 2011, three years behind schedule, but lately it's been plagued by a series of mechanical mishaps. On Jan. 16 things hit bottom, when all 50 Dreamliners flying worldwide were grounded after a fire erupted on one and another had to make an emergency landing because of failures in its lithium-ion battery. Boeing and the Federal Aviation Administration, working with accident investigators in the U.S. and Japan, are trying to determine what prompted charring and the release of fumes from the battery packs.
The grounding of the Dreamliner, the first U.S. commercial plane to be pulled from service since the DC-10 in 1979, has raised questions about Boeing's future—and McNerney's. Investors had expected to share in Boeing's rising cash flow as Dreamliner deliveries picked up this year and next. That may not happen if the 787 stays on the ground for long, or requires costly redesign work. Boeing could face mounting inventory and lower sales from undeliverable planes, as well as penalties owed to suppliers and airlines. That would offset some of the hard-won cost savings McNerney has instituted throughout the company. The Dreamliner grounding could also put further pressure on Boeing's stock, which during McNerney's tenure has underperformed shares of archrival Airbus's parent, European Aeronautic Defence & Space, and the Standard & Poor's 500-stock index.
Competitors in the cutthroat aircraft industry may seek to benefit from Boeing's difficulties. Airbus CEO Fabrice Brégier on Jan. 17 said his company is taking "a lower-risk approach" than Boeing on its expected mid-2013 rollout of the A350 jet. While the A350 will use some of the technology now under scrutiny in the 787—including lithium-ion batteries—the Airbus model has significant variations, including a "more traditional" electrical system, Brégier said.
Even if the 787's electrical system requires only minor modifications and Dreamliner service is soon resumed, passengers may be wary of traveling on it. "Even if no one has been hurt on a 787, who wants to get on a plane that may go on fire?" asks Charles Elson, director of the John L. Weinberg Center for Corporate Governance at the University of Delaware. "It's never good for a company when you question its basic product, so now McNerney has to convince customers and investors that the Dreamliner is OK. This is a leadership test for him."
McNerney, who declined to comment for this story, seemed tailor-made for the Boeing job. An 18-year veteran of GE, where he ran the aircraft engines business, the Jack Welch protégé was steeped in GE's focus on metrics and its Six Sigma program, techniques designed to decrease production defects and increase productivity. At 3M, where he was CEO for five years before joining Boeing, he reined in spending and won praise for bringing more discipline to the maker of Scotch tape and thousands of other products.
Now McNerney, 63, will be judged by how effectively he manages the Dreamliner crisis. He has to work cautiously and in concert with government investigators, yet also move quickly to get questions about the 787 resolved before the plane's reputation sustains irreparable damage. That's a challenge in an industry not known for speed even when dealing with traditional technologies. "Boeing is committed to supporting the FAA and finding the answers as quickly as possible,"McNerney said in a Jan. 16 statement. "The company is working around the clock with its customers, the various regulatory and investigative authorities."
McNerney has been conferring at least twice daily with a half-dozen top executives dealing with the Dreamliner grounding. Among them are Ray Conner, the fourth executive to lead Boeing's commercial airplane division since McNerney became CEO. There's also been a revolving door of managers in charge of the 787 program—four since McNerney took charge. Having made so many management changes, McNerney can't easily blame others for the Dreamliner's problems, says the Weinberg Center's Elson. The Boeing chief has thrown himself into the investigation, relying on his knowledge of planes and electrical systems while also culling information from other sources. After he learned of the Jan. 7 battery fire on a Japan Airlines 787 in Boston, McNerney told his chief technology officer to begin supplementing information coming from directors of the 787 program, says Tom Downey, senior vice president of communications. Says Downey: "He wants to know in real time everything that's going on."
Financial risks to Boeing include possible compensation to buyers under warranty, design and manufacturing expense, and delivery disruptions, according to Howard Rubel, a Jefferies Group analyst in New York. Rubel thinks the cost of that could potentially rise to about $550 million. McNerney's reputation for getting things done also remains at stake. "If this is worked through in the next 12 to 18 months, it will just be seen as a bump in the road," says Michael Useem, director of the Center for Leadership and Change Management at the University of Pennsylvania's Wharton School. If not, then batteries could be the least of McNerney's worries.
Before it's here, it's on the Bloomberg Terminal.
LEARN MORE