No Profit, No Loss, But a Win Against Tropical Disease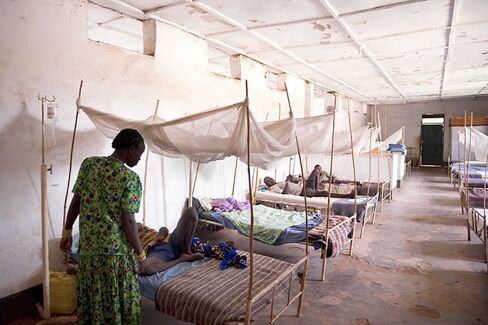 The record of Western exploitation in Africa stretches for centuries. Yet some drug companies are rethinking the relationship between profits and poor people, showing that the drugmakers are willing to trade immediate payoff for a foothold in fast-growing markets.
A prime example is the drug behind one of the disease-eradication breakthroughs of the past generation: the decades-long struggle to wipe out Human African trypanosomiasis, or sleeping sickness, a deadly affliction that attacks the central nervous system of its victims. For the first time in 50 years, the number of reported cases dipped in 2009 to below 10,000. By 2011, the number fell a further 30 percent, to 6,743. Last week, the World Health Organization declared sleeping sickness to be one of the neglected tropical diseases in its target that is on its way to elimination by 2020.
The treatment at the center of this success story was a royalty-free drug based on a business model that would have been unthinkable in Big Pharma just a decade ago. Nifurtimox-Eflornithine Combination Therapy (NECT) was co-developed by Sanofi and one of its main rivals, Bayer Schering Pharma, along with the advocacy group Drugs for Neglected Diseases Initiative (DNDi) in Geneva. NECT was launched in 2009 after the two major drugsmakers agreed to run clinical trials jointly to develop it, plus scrap any plans to patent the breakthroughs and go royalty-free so that each treatment would remain affordable to patients, many of whom live on little more than $1 a day.
"Our policy is no profit, no loss," says Dr. Robert Sebbag, vice president for access to medicines at the Sanofi Group. "In this way, no one loses." In return, Sanofi gets access to emerging markets where it otherwise had no presence (and where the company can eventually sell other drugs at higher margins); new knowledge of diseases that could make the leap to the developed world (through climate change or migration shifts); and, of course, some brand polishing. "The big growth for Big Pharma will come from the Southern Hemisphere," Sebbag says. "This also happens to be where basic medical needs are so important." Collaboration among drugmakers saves costs and may lead to new disease-fighting techniques.
Despite the recent progress, Dr. Bernard Pécoul, executive director of DNDi, says Big Pharma could still do more. "If the investment level is correct, we could have several new drugs available within the next two to five years, maximum," he says, citing an affordable treatment for tuberculosis as one example. To achieve this, rival drugmakers, he says, "must commit to opening up further their [patent] libraries collectively."
Still, the impact of this intellectual-property-be-damned business approach is already beginning to be realized. Sleeping sickness is one of 17 neglected tropical diseases on the WHO list for eventual eradication that today kill 500,000 annually, and 2.6 million people are considered at risk of contracting one of these diseases. In WHO's sights are malaria and dengue fever, plus other maladies that primarily affect pockets of the developing world, such as dracunculiasis, or guinea worm disease, and yaws.
WHO says even greater progress has come with guinea worm and yaws, now on pace to be eradicated in 2015 and in 2020, respectively.
"There could not have been such success to control, eliminate, and even eradicate these neglected tropical diseases in such a short period without this collaborative approach," says Ashok Moloo, an official in WHO's department of neglected tropical diseases. He adds that 731 million people were treated for neglected tropical diseases in 2011, a figure that could not have been accomplished without this "no profit, no loss" approach adopted by Big Pharma and other health advocacy groups. "It's been critical."
Before it's here, it's on the Bloomberg Terminal.
LEARN MORE