Detroit Engineer Oversees GM Customer Experience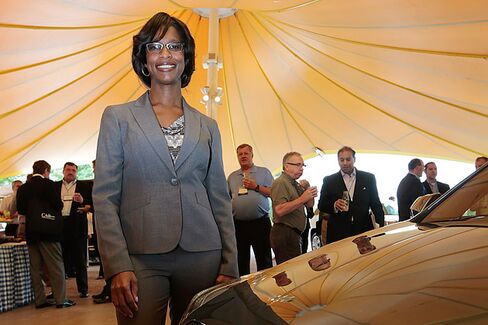 Alicia Boler-Davis was the plant manager overseeing General Motors' new small-car program when she sat with Michelle Obama for the State of the Union address a year ago. Her appearance highlighted the rebound of the U.S. auto industry under President Barack Obama. A year later, Boler-Davis's responsibilities at GM say something about the changing relationship of big corporations with their customers.
Two weeks after the State of the Union appearance, GM put the Detroit engineer in charge of its U.S. customer experience. Five months after that, it asked her to oversee product quality—worldwide. If her initial brief sounds squishy, that was by design. "What I liked about this job is that it wasn't given to me with a rule book: Do x, y, and z. We wanted to be the leaders in customer experience, and my job was to figure out what that should look like. I liked that it was a blank slate."
The surprise is that her job has also turned out to be so broad. Boler-Davis says she quickly realized that dealers and call centers are just part of the customer experience. "It starts with the decisions around how we build the car," she says. "We have to bring the customer's voice in right from the beginning."
That's why adding global quality oversight to her brief—which could have been cast as a lunatic move just years ago—actually makes sense. As Temkin Group Managing Partner Bruce Temkin points out, "Quality roles are less about the traditional focus of making repeatable, error-free products than making sure you customize the products to deliver an experience that customers want." That's why companies such as Adobe and EMC have also combined their quality and customer-experience roles.
The question, of course, is how to deliver on both. Boler-Davis says a big part of her job has been to "make sure the entire organization clearly understands what we're trying to do—and that everyone here understands their role in bringing the voice of the customer into their decisions." She's changing how GM works with its dealers, trying to make them closer partners, while also getting mystery shoppers to report on their dealer experience. She has brought sales and marketing folks into a broader range of discussions. On the production front, she's pushing to broaden design improvements, such as moving lock buttons from the steering wheel back to the door, where customers feel they belong. "We want to make it easier for customers to interact with us, every step of the way."
At times, of course, the best interaction is none at all. With mobile phones, social media, and tablets on site at dealerships, what many customers want are tools to modify their GM experience. That's the kind of control any quality chief would hate to give up, unless the first priority is improving customer experience. "The customer is the starting point in my role," she says, "but it's the starting point in everyone's role."
Before it's here, it's on the Bloomberg Terminal.
LEARN MORE