Cameron Statement on U.K. Attitudes to EU Questioned by Polls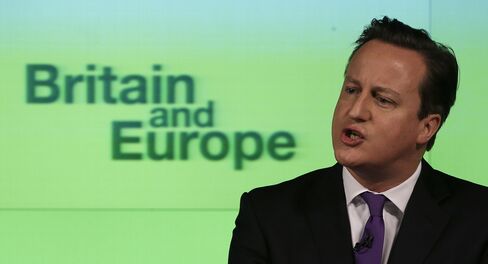 Prime Minister David Cameron's statement that disillusionment in the U.K. about membership of the European Union was at a record level was questioned by pollsters.
Cameron made the assertion today in a speech at Bloomberg's London headquarters, as he explained why he was promising a referendum on leaving the 27-nation bloc. "Today, public disillusionment with the EU is at an all-time high," he said. "The question mark is already there and ignoring it won't make it go away."
Ipsos MORI has been asking British adults to name the most important issues facing the country since 1974. The peak for naming European issues was in April 1997, when it was cited by 43 percent of voters, second behind education. This month it was named by 2 percent.
"Everybody is just worrying about the economy," said Ben Page, Ipsos MORI's chief executive officer. "The media and the obsessives can go on about this as much as they like, it never moves. It's just not an obsession with most people."
Cameron recognized this in 2006, when he told his party that they'd lost power because "while parents worried about childcare, getting the kids to school, balancing work and family life, we were banging on about Europe."
That message wasn't popular with his lawmakers, who have set records for Parliamentary rebellions on the subject of Europe over the past two years. Today, many of them welcomed their leaders change of stance.
Peter Kellner, chairman of YouGov Plc, also disputed Cameron's assessment that Europe was an issue of concern to voters.
Pro-European
"It depends how you define disillusionment, but if you look at the standard measures of should we be in or out, we're at one of the more pro-European stages," he said.
Rick Nye, director of Populus Ltd., which has done polling work for Cameron's Conservatives in the past, said that the content of the prime minister's speech might matter less than the impression he gave. "Europe as an issue isn't always salient, but the optics are salient," he said. "Does he look like a guy who's in command of his party, and looks like he has a direction he wants to take the country?"