The Grounded Boeing 787 Drags Down Stocks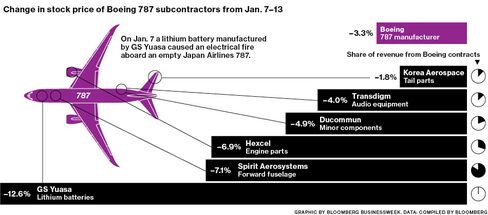 On Jan. 16 the Federal Aviation Administration halted all flights of the 787 Dreamliner, piling on yet another setback for Boeing and its buggy new airframe. The fires, leaks, and cracks plaguing the aircraft have affected more than just Boeing's bottom line: The market is also punishing their galaxy of suppliers, which make the hundreds of thousands of parts that go into the plane. None has been hit as hard as Japanese battery manufacturer GS Yuasa, whose product caused a Jan. 7 electrical fire aboard a 787.
Before it's here, it's on the Bloomberg Terminal.
LEARN MORE