Job Gains in U.S. Led by New York, New Jersey After Sandy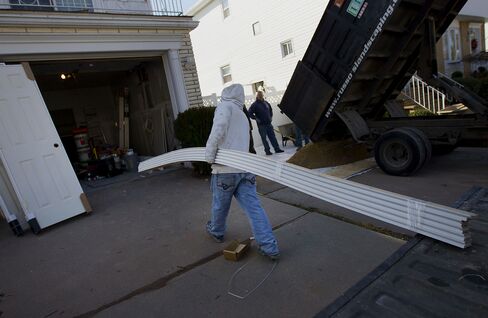 Jan. 18 (Bloomberg) -- December's increase in U.S. payrolls was led by New York and New Jersey as the states rebounded from the damage caused by superstorm Sandy.
Of the 27 states showing a boost in employment last month, New York was at the head of the pack with a 35,100 gain in hiring, followed by New Jersey with 30,200, according to figures from the Labor Department today in Washington. The jobless rate fell in 22 states and rose in 16.
The dominance of New York and New Jersey indicates the rebound from the storm that crippled the Northeast in late October and early November had some effect on December employment. Nonetheless, the housing recovery is contributing to sustained gains in hiring that are needed to propel consumer spending, which accounts for about 70 percent of the economy.
"Sandy had an impact on the mid-Atlantic region, but homebuilding is having a fairly broad impact nationwide," said Steven Cochrane, managing director at Moody's Analytics Inc. in West Chester, Pennsylvania. "The labor is improving. We are seeing it spread out across the country."
Unemployment fell the most in Nevada, decreasing 0.6 percentage point in December to 10.2 percent. That now leaves it tied with Rhode Island as the states with the highest jobless rates in the nation. Alabama and Connecticut were among the states that also showed significant declines in joblessness.
Jobless Rates
The sixteen states reporting a higher unemployment rate in December compares with none showing an advance in November. No state last month registered an increase of more than 0.2 percentage point in the jobless rate. Among those showing the biggest gains were Delaware, Indiana and New Mexico
North Dakota remained the state with the lowest unemployment in the nation with a reading of 3.2 percent, which was up from the prior month's 3.1 percent.
In addition to New York and New Jersey, other states showing gains in payrolls included Georgia, with a 14,400 advance, and Missouri, where payrolls climbed by 10,200.
California showed the biggest loss in hiring, as employment dropped by 17,500. Florida followed, with a 15,300 decrease, and Louisiana, with an 11,400 drop.
The increase in New Jersey payrolls was its biggest since 1990, the state reported yesterday. Recovery efforts in the wake of Sandy, which struck the state on Oct. 29, may have lifted payrolls. New Jersey's jobless rate fell to 9.6 percent from 9.7 percent.
December Payrolls
The economy rounded out a third year of job gains in 2012, with employers nationwide adding 155,000 workers last month after 161,000 in November. The U.S. unemployment rate held at 7.8 percent.
State and local employment data are derived independently from the national statistics, which are typically released on the first Friday of every month. The state figures are subject to larger sampling errors because they come from smaller surveys, making the national figures more reliable, according to the government's Bureau of Labor Statistics.
Federal Reserve policy makers have said monetary easing, including $85 billion in monthly bond purchases, is likely to continue until the labor market improves substantially.
All 12 of the central bank's districts characterized the pace of economic growth as "either modest or moderate," according to its latest Beige Book business survey. "Labor market conditions remained mostly unchanged in all districts."
To contact the reporters on this story: Shobhana Chandra in Washington schandra1@bloomberg.net
To contact the editor responsible for this story: Christopher Wellisz at cwellisz@bloomberg.net