Making the CEO Accountable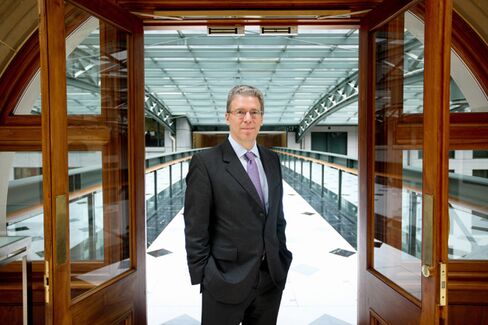 The abrupt departure of Tom Albanese as chief executive officer of Rio Tinto surprised everyone. Many of the recent leadership changes at big corporations have played out slowly and painfully in the media spotlight: Leo Apotheker at Hewlett-Packard, Bob Diamond at Barclays, George Entwistle at the BBC. Others, such as Vikram Pandit at Citigroup, happened swiftly but were long anticipated.
So credit is due to Jan du Plessis, Rio's chairman, for acting decisively on Jan. 17, and to Albanese for doing the right thing. By replacing Albanese with Sam Walsh, who was already running the iron ore business that accounts for three-quarters of Rio's profits, the company's board has averted unnecessary speculation about where the company is going or what its priorities are. By the end of Thursday, Rio's stock price in London was down 0.53 percent, a negligible drop in the context of a $14 billion writedown.
Albanese was right to resign. While he was well-regarded internally, and his record as CEO was a good one, he never quite escaped from the shadow of his $38 billion acquisition of Alcan at the top of the market. The writedown was the final straw, and, as he said himself, "accountability for all aspects of the business rests with the CEO."
But the bigger story here is not about CEOs making aggressive acquisitions that don't come off. It is about those companies that fail to hold their CEOs accountable for value destruction. There are many recent cases of CEOs who stayed in their position far too long and led their companies into decline: Scott McNealy at Sun Microsystems, Michael Eisner at Walt Disney, Fred Goodwin at Royal Bank of Scotland. And there are plenty of CEOs who should likely have handed over the position to someone else by now, including John Chambers at Cisco Systems, Steve Ballmer at Microsoft, and Rupert Murdoch at News Corp..
It's much easier, of course, for a board to act decisively when it is hit with a one-off impairment—$14 billion in Rio Tinto's case—than when it sees its profits slowly ebbing away. In cases of slow decline, the CEO can always make a decent argument that the turnaround is just around the corner, so most boards offer the benefit of the doubt. But the long-term value destruction in such cases is often far greater than that caused by a couple of bad acquisitions at an otherwise healthy company.
So what should boards do? Strange as it may seem, companies can learn a great deal from the world of politics when it comes to executive power. Democracies have fixed terms of office for their leaders, and many have rules preventing the same individual staying in power too long. Power corrupts, as the old saying goes, so we need binding rules to prevent our leaders from abusing their powers or falling asleep at the wheel. The same principle applies to corporations, most of which would benefit enormously from a new leader every five or 10 years. Jack Welch is the exception that proves this rule: Yes, his 20 years at the helm of General Electric was a great success story, but for every Welch, there is also a CEO who stayed on too long.
An even more controversial idea from the world of politics is for CEOs to be voted in by the company's stakeholders. This already happens at some organizations. W.L. Gore & Associates, the private Delaware company behind Gore-Tex and hundreds of other products, uses a peer-review system to choose its CEO. John Lewis, the U.K. retailer, has a Partnership Council, elected by employees, that in turn elects the CEO. Most professional partnerships, such as McKinsey & Co., have five-year terms and voting systems to choose their managing partner.
These alternative models for managing CEO succession have their own problems. They are slow, can be quite political, and tend to be fairly conservative. But there is one overriding principle that makes these costs acceptable, namely that the CEO is accountable to the organization he or she is running, not the other way around. We need to become much more thoughtful and creative about how to embed this principle in corporate governance systems.
Before it's here, it's on the Bloomberg Terminal.
LEARN MORE