How Disney Hopes to Game the Console Market
Video games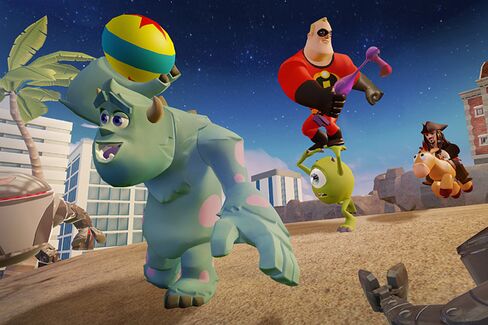 Console video games sales are falling, but a hit game can still out-gross most movies. So what does a large entertainment company do if it wants a piece of this risky business? The future model could be the one that Disney unveiled on Tuesday: Disney Infinity, a video-game platform that enables fans to choose characters from the company's many different worlds and deploy them simultaneously in a sandbox-like environment. In Disney's initial demonstration of the product, Capt. Jack Sparrow of Pirates of the Caribbean mingles with Sulley of Monsters Inc. and The Incredibles' Mr. Incredible. This is a departure for Disney, which has historically kept its characters from disparate franchises away from each other.
What's more intriguing is how Infinity breaks from the traditional strategy most studios follow. Instead of creating games for each movie or television show, Disney will introduce them into Infinity. In June, fans will be able to purchase the $74.99 Infinity starter kit, which comes with the Infinity Base. The device looks a little like a futuristic set-top box, and can be plugged into most video-game consoles and mobile devices. The starter pack comes with three character figurines. Gamers activate their characters in the Infinity sandbox by attaching them to the Infinity Base. Disney, of course, has many characters and worlds; fans who want to populate their Infinity universe with them will have to pay extra. The same is true of the "play-set packs," which unlock virtual worlds from the company's franchises.
I talked to John Pleasants, co-president of Disney Interactive, about the decision to launch the Infinity platform and what it means for Disney. The interview has been edited and condensed for space.
Where did the idea for Infinity come from?
We had some commercial and creative success with products that came out of the studio that's building this, which is called Avalanche, in Salt Lake City. They put out the Toy Story 3 game, which had a kind of sandbox, an open and unstructured game-play mechanic that was quite popular, so we wanted to build off of that. I came to the company about two and a half years ago in that moment. I wanted to change, I guess, the strategy of what we were doing, and that translates into how we deploy our capital.
What do you mean?
We had historically been spending most of our money on individual console products, often tied to movie storylines. Console is a very, very risky business. It's very high cost, big debt. So we have shifted a lot of our capital away from stand-alone console products into areas of high growth, such as mobile, social, online, and some emerging things we're doing in Asia. We're not abandoning console. It's still a $20 to $30 billion industry out there, but we wanted to make sure whatever we did was available as an experience on the console, on mobile, and online. We had not been thinking that way before. The second thing is we wanted to make sure that the thing we built was a content platform, something that we could build over time.
You mentioned other products. Did the success of Activision Blizzard's Skylanders, a similar video-game platform, sort of influence your decision at all?
Truthfully, I don't know that it influenced it at all. People compare it because of the physical toy side of it. We had that on the drawing board years before Skylanders came out. But we have eyes. We read. We are aware of the fact that that game has been very successful, and I think it gave people confidence that the bet that we were making would resonate with consumers.
Do you think this is a model for other entertainment companies?
It's not for the totally faint of heart. You have to have capital. You have to have a good technology base. We have been building on this. The game engine is over five years old. All the types of game play that we introduced yesterday are part of this technology stack. And we've built a networking system and all the things that we've learned from social and mobile and transaction capabilities and identification and newsfeeds and all that stuff. We're leveraging all that here. We've got the relationships—you know, everything from our relationships with retailers. We know how to handle physical product. We do a lot of that, not to mention having the [intellectual property] and the talent to be able to pull this off because at the end of the day, this only works if you have really good people working on it.
Before it's here, it's on the Bloomberg Terminal.
LEARN MORE